Ag Service Board chair talks harvest
Posted on October 8, 2019 by 40 Mile Commentator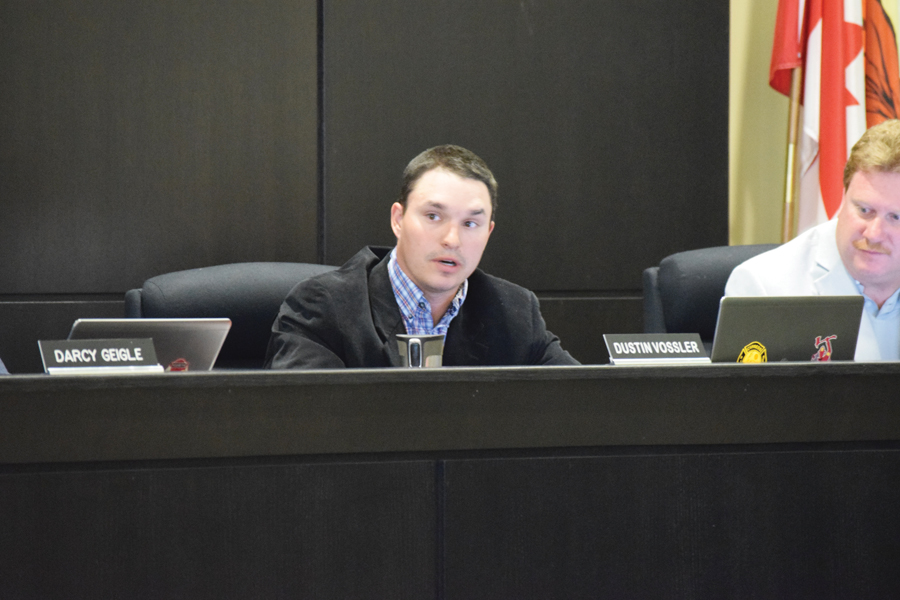 Alberta Newspaper Group File Photo Cypress County Ag Service Board chair Dustin Vossler.
By Justin Seward
Commentator/Courier
Cypress County's Ag Service Board chair Dustin Vossler is about 75 per cent done his harvest this year and considers himself lucky compared to other farmers nearby.
"I'm one of the lucky ones to have as little left as I do," said Vossler.
"I know some people have quite a bit more left in the range of half to less than half done. This foot of snow has really countered into that a little bit."
Vossler says 2019 has seen a little bit of everything from drought to snow, which has shut down harvest for several weeks until it is dry enough to go back in the field again.
"It's kind of counterintuitive to say it's been a great year," he said.
"We're looking at cooler temperatures going into the fall now. It's hovering around that 15 degrees as a high we're seeing for next week. It might be some of the best weather we see. I hope we get to see our Indian summer yet, but I don't think we're going to."
Yields on a dry year in 2019 produced 20 per cent of the norm, while in irrigation there is not much difference because of the water, he said.
Ranchers have been hurt with this recent snow fall.
"I know the few I've talked to, they've been going out to search for their cows where they're in the treed area up in Elkwater. It adds a whole degree to getting them out when there is this much snow on the ground," said Vossler.
With this snow, it will improve the grass conditions for next year, he added.
"It's been a tough year for everybody when it comes to having a hard time getting the crops to grow," said Vossler.