Dave Rozeba South Alberta Flight Academy sees first student take off
Posted on November 6, 2019 by 40 Mile Commentator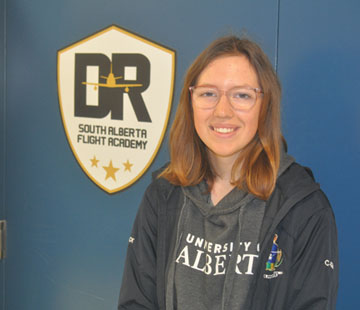 Emily Stock was the first Dave Rozdeba South Alberta Flight Academy student to fly a plane in the program on Oct. 29.
By Justin Seward
Commentator/Courier
The Prairie Rose School Division's Dave Rozeba South Alberta Flight Academy saw its first student take flight on Oct. 29.
Eagle Butte High School Grade 12 student Emily Stock had the opportunity before any of her peers to take flight at the Medicine Hat Regional Airport because she went into the program with her private pilot license already and is another reason why she is moving through the program a bit faster.
"It was really cool," said Stock.
"It was a new plane that I hadn't flown before. That was awesome and a new instructor. I have my private license that I got already through cadets and this program is just helping me get my commercial private license.
"They've been super accommodating because my peers right now, they're working on their private license. My situation was a little bit unique but the school and Super T Aviation have been amazing and accommodating."
She has trained in a Cessna 150 and the plane she took in the air was a Cessna 172, which Stock thought was a bit bigger of an aircraft but with similar controls.
Stock says she has been participating in the class requirements with the weekly meetings, survival training and the history of aviation with her classmates.
"Since I have my license there wasn't a lot of things that I had to do before," she said.
Her peaked aviation interest stemmed from growing up with her grandpa and dad having their private pilots license.
"My dad and I fly a lot together," said Stock.
"When I was 12, I joined Air Cadets and I was interested in the aviation stuff in that program. In 2018 I got my pilot glider license through the cadet program and in 2019 I got my private pilot license through the cadet program."
She has friends in the flight academy that are also in the cadet program who she mentors along as well as answering any questions other students may have.
Jimi Ricci is a teacher with the flight academy and says Stock is a nice addition to the academy.
"Emily is a unique situation because she already obtained her private pilots license just this summer. We talked to Super T Aviation and she expressed an interest in the program," said Ricci.
"We asked them if there is something we can do for her and to individualize the program for her and they thought ' Yeah we can get her to work on her night rating and get her to start the ground school for her commercial pilots license.' Once she found she would out she would be able to do that, she jumped at the chance."
Ricci says she has been a great role model for the other kids just with her experiences through Air Cadets.
"It's really motivating and exciting the other kids," he said.
Students are also building an RV 12 airplane from scratch which covers a lot of modules for program credits.
The plane will be flown upon completion.
The flight academy is a three-year program starting in Grade 10 where students start with ground school and learn about wilderness training, first aid training and building a radio aircraft. As the students progress to their second and third year, they'll become more active in flying. Grade 11s will fly for 35 hours and in Grade 12 the students will do the same to obtain their private pilots license.