Redcliff Youth Centre on the march for Family Violence Prevention Month
Posted on November 6, 2019 by 40 Mile Commentator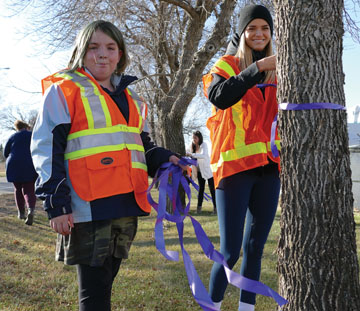 Commentator/Courier Photo by Philip Buisseret Volunteers from the Redcliff Youth Centre tie Purple ribbons along the avenue of trees in Redcliff to raise awareness for ÒFamily Violence Awareness MonthÓ
By Philip Buisseret
Commentator/Courier Freelancer
The Redcliff Youth Centre along with outreach workers from the Medicine Hat Women's Shelter Society and the McMan Youth services were busy on Broadway in Redcliff on Friday, Nov. 1 tying purple ribbons along the "avenue of trees" in Redcliff.
Peggy Revell organizes community events and raises community awareness for the Medicine Hat Women's Shelter Society in Medicine Hat and area.
"This is part of the drive to raise awareness on issues surrounding family violence," said Revell.
"We have been tying purple ribbons in Medicine Hat for 5 years, but our area also includes Redcliff, and we were looking for ways to get young people involved as they are the new generation."
She added that " they add so much enthusiasm, and give their time willingly."
Family violence is on the rise in Alberta, but the numbers may not tell the full story.
"People are a lot more comfortable coming forward now when they need help than in the past" said Revell.
The Medicine Hat women's shelter responded to 1300 crisis calls last year and admitted 267 adults and 140 children to the shelter.
The help line is (403)529-1091 is available to help any family member facing a crisis and the phone line is open 24 hours a day, all year round.
Alberta also ranks the third highest among the Canadian provinces for its rate of family violence against seniors.
A recent Government of Alberta report shows that the rate of family violence against seniors is increasing for both men and women across Canada.
Among senior victims, women were most often victimized by a spouse, while men were most often victimized by Revell says "To raise awareness we have put up 5,500 feet of ribbon this year in both Medicine Hat and Redcliff. We have had different schools adopting blocks in Medicine Hat and its really great to see the enthusiasm this year."
The ribbons will remain on the Redcliff avenue of trees for the month of November.