Badlands Cre8tions officially opens its doors
Posted on December 10, 2019 by 40 Mile Commentator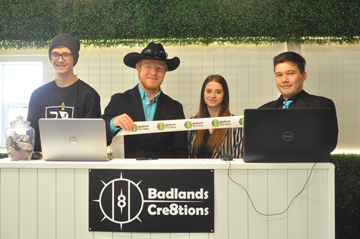 Josiah Klassen, Clayton Lehr, Leaya Reinhardt and Jackson Cherowka help open up the store.
Justin Seward
Commentator/Courier
The student-operated Badlands Cre8tions store officially opened its doors to the public next to the Prairie Rose School Division office on Dec. 5.
The store featured hand crafted project designed by students in a business class.
Items that were up for purchase were wooden signs, travel mugs, earrings, cards, and custom made chairs to name a few.
Jason Duchscherer, Eagle Butte's vice-principal and business teacher, has served as store manager since the concept started last January.
"The first thing was to come up with credits for the students," he said.
"Obviously if they're taking these classes, they need to be getting credits to graduate.
"So we came up with a list of different classes that students could take a course for three different semesters and get three separate credits. From there it was really designing the building you're standing in right now. We hired an interior designer and we had one of our retired carpenters from Prairie Rose School Division who came helped us. That was a little bit of the work last year."
He says there was a little bit of product made last year because a laser engraver was bought.
"This year was building, creating and designing all the product that you see in here as well as getting a partnership with different schools in Prairie Rose School Division," said Duchscherer.
While the store is Eagle Butte-led, there were products being sold from South Central School in Oyen, I.F. Cox School in Redcliff and Irvine School. "It's becoming a whole Prairie Rose venture of students beginning to sell products and learn that entrepreneurial skill of maybe having the opportunity of opening up their own business someday," he said.
The funds from sales go back into the program and if students made product on their own time, the store keeps 20 per cent.
PRSD superintendent Roger Clarke says the store is good opportunity for the students to create and craft something that they want to put quality into.
"I want to make sure the school can morph this and make this works in a school system and they've done that and they'll move more to the online presence," said Clarke.
"Between shop, art class, your foods class, kids just have great ideas of their own and how do we support them in this. They can be super stars in this."'
Jackson Cherowka was involved in the design process of the products.
"It was pretty exciting being a part of something big for the students," he said.
"It's a mindful experience to go through as a Grade 11 (student) and going to the future soon to graduate and to pursue a career. There's a lot of options on the table to tell me what I should do."`
Products can also be purchased online at http://badlandscre8tions.com.