Motz applauds Scheer's 'depth of character'
Posted on December 19, 2019 by 40 Mile Commentator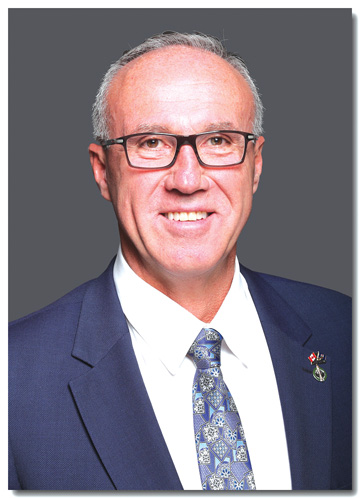 MP Glen Motz Ottawa, Ontario, on 18 October, 2017. © HOC-CDC Credit: Christian Diotte, House of Commons Photo Services
By Collin Gallant
Alberta Newspaper Group
Medicine Hat's Conservative MP says he would like to see a new party leader chosen before next summer, following the surprise announcement Thursday that federal Conservative Leader Andrew Scheer will step down.
The Regina MP and former speaker of the House will remain leader until a process elects a new leader, but a process of choosing a successor will be decided in the new year.
Glen Motz, MP for Medicine Hat-Cardston-Warner, said he applauded Scheer's service and decision to step down, but would like to have a new leader in place quickly to focus the Official Opposition on the government's actions.
"We have a very strong bench," said Motz. "Like all Canadians I'm looking for a leader who puts Canadians first, the unity of our country as a priority.
"I think there will be a host of individuals who fill the bill, and I'll support whomever the grassroots selects to be our next leader."
Scheer faced criticism from some corners of the party after the Conservatives failed to gain government in the fall election against the Liberals, who held on to minority rule despite Tory hopes to capitalize on controversies and Trudeau's handling of the economy.
"That wasn't inside the caucus at all," said Motz. "There are a lot of folks who sit on the sidelines and chirp a lot on what may or may not have caused the Liberal win. But we gained a lot.
"There are a lot of things to be proud of, but there are a lot of distractions from outside."
On a personal note, Motz said Scheer's stated reason of spending more time with a young family was "well-aligned."
"I have to applaud Andrew 100 per cent for making the very difficult decision," said Motz. "And through his own process, he came to realize that he may not be the leader that Canadians want to be the next prime minister.
"To me, that demonstrates an incredible depth of character."
Motz remained stalwart that the conservatives gained seats and vote share during the election.
Scheer and Motz first met during the 2016 byelection in Medicine Hat when the former speaker arrived to volunteer on Motz's campaign and drum up support for his leadership bid in a crowded field of a dozen candidates.
Motz eventually supported Erin O'Toole in the race to replace former PM Stephen Harper as party leader. The entire process however, ended on the 13th round of voting with Scheer just edging out front-runner Maxime Bernier, who eventually split and formed the Peoples' Party of Canada.