Hockey academy seeing tremendous strides in Foremost
Posted on December 27, 2019 by 40 Mile Commentator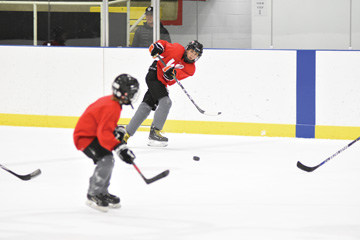 Ryker Hollingsworth passes the puck up the ice during the Willie Desjardins South Alberta Hockey Academy's 3-on-3 Jamboree at the Kinplex on Wednesday.
The Willie Desjardins South Alberta Hockey Academy is in its second year and the Foremost chapter is seeing great strides in its players and coaches.
Foremost coach Ben Thomson says it's gone better than expected.
"I think it's been a huge success for not only the kids but the community," said Ben Thomson, Foremost academy head coach.
"For me personally, it's nice to see the growth in the players and as people as well."
Thomson says the biggest growth he has seen in the Foremost players is the foundation in their skills.
"We try to really focus on skating, skating techniques, handling the pucks, a lot of skill base drills," he said. "As an instructor it was really nice to see where they started in September, October and even now where they're at (in) December. It's fun, you sit back and watch that growth and that improvement and that's the biggest satisfaction for me."
He has not had to provide a lot of motivation on his end because the kids are driven, he added.
"I try to keep my practices as fun as possible so they're continually excited to come to the rink," said the former Medicine Hat Tiger. "I try to tailor my practices to having to be high energy and lots of fun things for them to get better on. It's been a great process."
Prior to getting the academy instructor gig, Thomson took time away from the game for a number years, but the academy was a great opportunity for him to get back into the game.
"And just to see the passion the kids have, it's re-ignited my flame for hockey and I'm very grateful for that to see their joy and excitement to come to the rink every day," he said.
Foremost Flyer pee wee player and hockey academy member Ryker Hollingsworth said he's learned a lot from Thomson.
"I'm a defenceman and he (Thomson) taught me to take the body and (have) respect for others," said Hollingsworth after the hockey academy's 3-on-3 jamboree Wednesday at the Kinplex. "I just want to get better at hockey. I want to get better at my shots and probably my handling of the puck."