Lady Talons look to stay healthy
Posted on December 27, 2019 by 40 Mile Commentator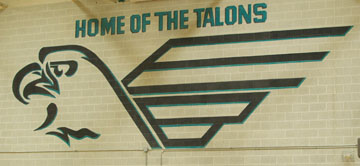 By Justin Seward
Commentator/Courier
The Eagle Butte High School Talons senior girls basketball team are entrenched in a fairly even playing field this season and are looking forward to the season long battle with their Medicine Hat counterparts.
"(The) season competition for us looks fairly level across the board with our competition in our league," said Brandi Stroh, head coach.
"We've played Crescent Heights, McCoy, St. Joesph's for league thus far and we have to play Brooks Composite yet. We met up with them in a tournament and I think really across the board the competition is pretty level. It's going to be interesting to see how it plays out here."
Stroh says the team picked up a couple of players that had not played in the past that have brought speed and skill while she has coached eight of the 12 girls at the junior high level.
"It's great to see the development they brought moving forward," said Stroh.
"We've got a lot of talented kids on this squad. The girls themselves have worked as a team. I think we've got strengths in all aspects with natural ability. We've got some great shooters. We've got lots of speed on the team (and) defenders covers everything across the board."
Stroh says moving forward the hope is to make provincials and she does see the potential with this group.
"If we continue to play our game and bring our 'A' game every night, we should have a pretty successful year," said Stroh.
What may help in the girls having an impactful season is staying healthy after an injury plagued campaign a year ago.
"Truthfully we were plagued with injury last year. We ran a smaller squad and at times were pulling up junior varsity (players) because we'd have four injuries on our senior bench," said Stroh.
"This year we're carrying a larger bench. We've already seen some injuries at the beginning of our season. But keeping these girls conditioned and their mind sets on playing smart. Basketball is a contact sport and unfortunately that incurs some injuries. We were plagued with some concussions last year and already this year we've had one mild."
Stroh is running a bench of 12 players to assure she does not run short on options when injuries happen and there has not been any junior varsity call ups this season as of yet.