Senior Talons boys look to stay competitive
Posted on December 27, 2019 by 40 Mile Commentator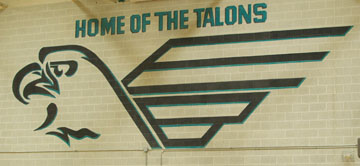 The Eagle Butte High School senior boys basketball team should be competitive this season, says head coach Mathew Duncan.
"We're a young team this year," said Duncan.
"Only a few returning Grade 12s. We'll be relying heavily on our Grade 11s. They're competitive and they want to win. We should be competitive most of the year and stay in most of our games. We're struggling right now but we can only turn it around from here."
Duncan says their strengths will be shooting the ball well, however, that is where the boys are struggling right now in losing close games recently.
"As the season progresses I believe we'll shoot the ball a lot better. These kids love to come in and get shots up. That'll be our biggest strength," he said.
Duncan looks at this season as "progress, not perfection."
"I just want us to finish better than we've started, be competitive by the time playoffs roll around and a chance to win our zone. It's going to be tough with McCoy being strong as they are but I want us to at least put up a fight," said Duncan.
He considers Crescent Heights to be their biggest rival and Duncan hopes the boys can take the energy from their competition.
"Last night (Dec. 19) was the first game where we played with high energy for 40 minutes that you need in every game and not just in rivalry games," he said.
"These young men have a problem following that through to the next game. We just faced both of rivals this week with energy, so hopefully it continues into the second half."
He added the teams will have to work on tightening up defensively because while there is enough points on the scoreboard to win, a lot points are still be given up.