Student-designed liquor bags raise awareness
Posted on December 27, 2019 by 40 Mile Commentator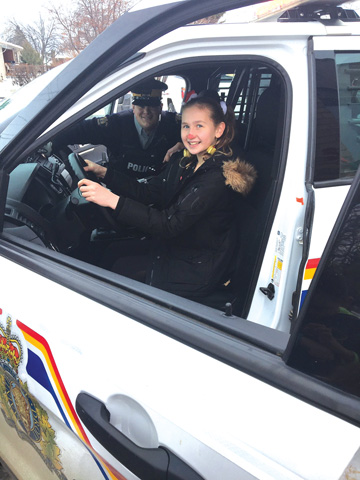 Photo submitted Alyssa Guy was another winner of the "Remember Who's Out There'Program
By Justin Seward
Commentator/Courier
Students in Redcliff and Cypress County were tasked with raising awareness about impaired driving and the consequences of the crime.
The "Remember Who's Out There" program allowed students in Grades 1 through 6 in the Redcliff detachment area from the end of November to mid-December to colour on paper liquor bags anti-drinking and driving messages and awarded in their school.
"Those bags are judged by the principal at each school for each grade and one winner is chosen per grade," said Redcliff RCMP Cst. Zachary Dye-Wilson, who started the initiative last year.
"We have a total of six winners from Grades 1 to 6 per school. Those six winners get a goodie bag that were prepared by Home Hardware in Redcliff. Tim Hortons has donated hot chocolate and Timbits for them to munch on and drink while they get a tour of my police car."
Dye-Wilson then chooses a grand prize winner for the school, who receives a gift from a unanimous business.
Dye-Wilson only did the program for Redcliff schools last year and it was with the positive feedback from the community that he decided to expand to the county elementary schools.
"What is important is the fact that these kids get to get involved in their community and the thing I've told the kids what's really neat about this program is people are traveling during the holidays. There's tons of traffic on the Trans-Canada Highway that goes through our detachment area," he said.
He says the students are on board with the initiative and enjoy when Dye-Wilson comes to the class to announce winners.
The liquor store bags were dropped off at liquor stores in the Redcliff RCMP detachment area starting on Dec. 20 and right through the Christmas week.
He plans to make some changes next year.