Bow Island Figure Skating Club about building a community
Posted on January 14, 2020 by 40 Mile Commentator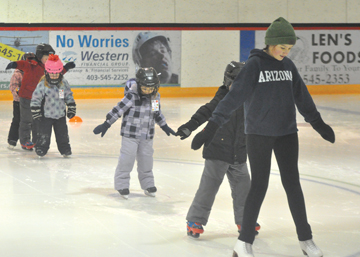 Commentator/Courier Photo by Justin Seward The Bow Island Figure Skating Club practiced their technique on Jan. 8.
By Justin Seward
Commentator/Courier
The Bow Island Figure Skating Club has had some encouraging signs with skaters this season.
"It's been going really good," said Tara Robertson, skating club treasurer.
"I think our numbers are up this year as compared to last year, that's been really nice to see. We're also retaining at the higher level, which has been a few years since that's happened."
Robertson says the reason for retaining skaters is because they progress from PreCan Skate, which is six levels, and going on to Can Skate.
"We found that a lot of skaters were leaving at the end of Can Skate, early Star Skate, and so we have a good core group who is moving up into the Star Skate level," she said.
The levels do not necessarily have anything to do with age because the skating club has a three-year-old who is in Can Skate level 2 and a six-year-old that started in Pre-Can, she added.
The youngest skater is three-years-old and goes all the way up to 11-years-old.
"I think it's been pretty good," said Robertson of the skaters bonding.
"The kids, whether they go to school or not, they always say 'Hi' to each other when they get here and they're always excited to see their friends."
"We have a few of the older girls who are called PAs (program assistant) and they help coach. In CanSkate, each group is sort of by level and each PA will help with one of those levels.
Robertson says with the way Skate Canada has their programs set out is that they have recreational skating and competitive skating.
"We do mainly recreational skating. There are the few older girls who want to try a little bit of competitive and we still offer that," she said.
"Because we're a recreational base program, we're open to anyone that wants to skate. If people want to learn how to skate and (if) we don't have this program in town, they have to go to Medicine Hat or Taber."
Robertson says the loudness in the arena is normal because parents like to get out of the house and come to the arena to chat and visit.
It is as much about the skills as it is about building a community because we all need that," she said.
She says for the figure skating club to keep going in Bow Island, it's all about the dedicated parents who don't want to drive to the city to take their kids to sports and others who want to see their kids learning a skill.
The club is currently looking to fill the vacant president position for the rest of the year and the seasons to come.