Parkside students show off their new school designs
Posted on January 14, 2020 by 40 Mile Commentator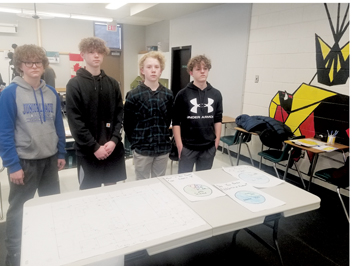 Alberta Newspaper Group Photo by Jeremy Appel Kayne Olinski, Colton Pope, Dawson Stewart and Chayse Becic display their design for a new Redcliff school, which includes many open spaces for students to spend their spare time and work collaboratively.
By Jeremy Appel
Alberta Newspaper Group
Grade 9 math students don't normally have the opportunity to get into building design.
However, students at Redcliff's Parkside School for the second year in a row did just that Monday, with a dozen groups creating their own hypothetical layout for the new Redcliff school that has been approved for capital planning.
"We're always trying to find as many connections as we can to make math as real life as it can be," said teacher Rocheal Howes.
In this instance, she had students make surveys, gather data, analyze it and use that information to inform their design plans, she said.
The Town of Redcliff has designated some land for a future school, so Howes had students envision what sort of building could fit in that site.
"They all like it when it connects to the real world. They see that as more valuable math, so they're much more engaged in this," she said.
Howes concedes there are "a lot of constraints" with an assignment of this magnitude.
"We obviously can't teach them everything about design and building, but we try and teach them as much as we can," she said.
Patrick Brooks appreciated the "creative freedom" afforded by the assignment, although he emphasized that this freedom was within reason.
"There's no 66 floors or a bowling alley," he joked. "It was nice to learn about floor planning and how hard architects have it."
Each group's display had a chart beside with data they collected from fellow students from each classroom to inform their school layout.
"We can learn what we need to make bigger for our design and give people more of what they want," explained Brooks' fellow group member Landon Weatherby.
The centrepiece of their design was the school's gym, as that's where most respondents said they enjoy spending their free time.
Colton Pope, a student in another group, described his design as a "mainly academic school, but it's very well-rounded."
He emphasized his design's use of open spaces and trade spaces, which he said expands the range of programming at the school, as well as what students can do in their off-time.
"It's just a pretty wide and open school," explained Pope.
Prairie Rose School Division superintendent Roger Clarke was one of the event's judges, who provided students with feedback on how to improve their designs.
"It makes the kids think about their community and what (the community might be in the future. It makes them think about their needs right now from an academic perspective, and also what it's like to be building a school that's safe, that's welcoming, that meets all kinds of needs, such as the teachers' needs and administration's needs," said Clarke.
He said he was particularly impressed by the range of programming the students were prepared for, particularly fitness facilities that could be used by all members of the community.
"It was community-minded, which was neat, but also had spaces that could be used as part of your everyday instruction," Clarke said.