Redcliff Legion members recognized through Quilts of Valour program
Posted on February 4, 2020 by 40 Mile Commentator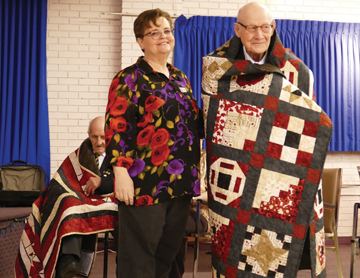 Commentator/Courier Freelance Photo by Philip Buisseret Redcliff Royal Canadian Legion veterans George Hope and (seated) Winston Jobb are presented with handmade ÒQuilts of Valour.Ó
By Philip Buisseret
Commentator/Courier Freelancer
On Feb. 1 at the Redcliff Legion, Quilts of Valour local representative Pam Robertson- Revet and Canadian Forces Base Suffield Base Commander Lt. Col. Troy Leifso with Base Regimental Sgt. Major (RSM)Marcel Chevier presented two quilts to World War 2 veterans Winston Jobb and George Hope.
Quilts of Valour is a Canada wide organization staffed by volunteers that gather, sew, quilt and finish quilts to present to veterans and members of the armed forces who experience illness or injury as a result of their service.
"To date we have provided 45,000 quilts to veterans across Canada," said Robertson-Revet to those present at the ceremony,
"The Medicine Hat group donated 40 quilts last year and hopefully we will make 150 this year."
The quilts are directed to the "transition centres" first, these centres are located at Canadian Forces Bases throughout Canada and are places that veterans suffering from mental or physical illness can access easily, each transition centre has quilts on hand to hand out to those in need of comfort and support.
"It's a way of saying thank you to veterans," she said.
"When Canadian troops returned from Korea for example, there was no one at the docks to greet them and thank them for their contribution, we want to make sure that never happens again".
Hope and Jobb are long time Redcliff Legion members, and both served overseas in France, Belgium, Holland and Germany, they were both young lads of 18 and 19 years old.
"I have a special place for this quilt" said Mr. Hope.
" It will keep me nice and warm. It's an honour for me to be recognized today".
Redcliff Legion President Stephen Marshall spoke to those assembled that he very much appreciated the support from CFB Suffield.
" I would like to thank the Base Commander and RSM and their wives Tara and Erin for giving the veterans, and the Quilts of Valour program their support today, its much appreciated" .