Local play groups still popular with families
Posted on February 11, 2020 by 40 Mile Commentator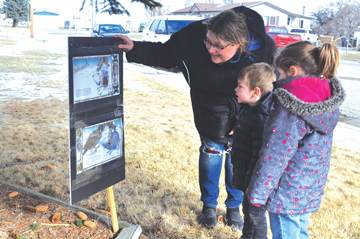 Commentator/Courier Photo by Justin Seward Terri-Lynn Arnal took John Kamper and Dylan Garber for a walk around Foremost to read 'The Mitten' through pictures during story time on Feb. 6.
By Justin Seward
Commentator/Courier
Local play groups are still seeing a consistent amount of families participate.
Foremost's playgroup  runs every Wednesday from 10 a.m. to 11:30 a.m. at the family center,Bow Island's run every Wednesday from 10 a.m. to 11:30 a.m. at the Multiplex and Etzikom's is from 9:30 a.m. to 11:30 a.m. on Thursdays at the Etzikom Hall.
The 40 Mile Regional FCSS sponsored groups are open to all ages of kids and are parent-ran and activities include fundraising for field trips and outings, while other groups do crafts and let the kids play with a snack provided.
40 Mile ECD (Early Childhood Development) Coalition coordinator Terri-Lynn Arnal says of the three groups, the Bow Island group has been struggling the most for numbers as of late.
"I know Bow Island is hurting," said Arnal.
"In Foremost, Etzikom, the parents have been really good at stepping up and helping. I know Bow Island is looking for more people. It takes the people to attend. I know McMan Parent Link have been coming to the Bow Island group and they've been doing events twice a month now. We're hoping with the new contracts(provincial budget) that they'll come and support the parents too."
Arnal says with the playgroups in the rural communities, it gives socialization for the parents and the children.
"They're hitting all the stages of development through attending," she said.
"There's toys, sharing (and) just meeting people. They (the parents) have the support on one another. When the kids grow up, they're used to seeing the kids they've played with and when they're in school it's a good transition for them."
The turnout in Foremost has been consistent with eight families every week, while there are five to six families with 12 kids every time in Etzikom and Bow Island still sees a good turnout in the rebuild of their program.
" I know there has been a pick up, before they used to have one or two kids, but now with them running consistent every week, it brought more people in," said Arnal of the Bow Island program.
Arnal says if the playgroups were to be cut in March's provincial budget that FCSS hopes to still have supports in place.
"We always to make sure we still have these supports in place for the parents, just so they have that socialization. We always want to make sure there are things for families to do," she said.
Another program that is ran is story time where new families can come to the library.
"We're not strict where the kids have to sit on the carpet. They get to play, move, enjoy their time here and it brings them to the library as they grow up, they know this is what we do at the library," said Arnal.
Foremost story time is Thursdays from 10:45 a.m. to 11:30 a.m. at the library , and Bow Island is on Fridays from 10:30 a.m. to 11:30 a.m. at the town's library.