PRSD consults with local communities on Burdett School's future
Posted on February 18, 2020 by 40 Mile Commentator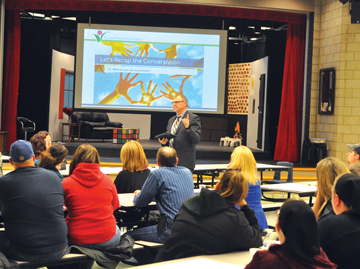 Commentator/Courier Photo by Justin Seward Roger Clarke, Prairie Rose School Division's superintendent, spoke about the future of the Burdett School and the possible additions to Senator Gershaw and Bow Island Elementary during the public consultation at Senator Gershaw on Feb. 10.
By Justin Seward
Commentator/Courier
Prairie Rose School Division's (PRSD) superintendent Roger Clarke hosted a public consultation for parents and teachers at both Senator Gershaw and Burdett Schools on Feb. 10.
The consultation included an overview of the school district's Capital Plan and what PRSD would be asking from Alberta Education for an influx of money for either modernizing the Burdett School building, adding additional space at Senator Gershaw and Bow Island Elementary or a brand new Burdett School.
Transportation of students was also on the agenda.
Burdett School was built back in the 1950s and there are signs of its age with mechanical and electrical problems.
"Burdett is our number one capital item," said Clarke.
"When we looked at that item we started to analyze where the kids are coming from and three-quarters of the kids that attend Burdett School currently, 226 kids, come from outside the Burdett catchment area. I think 155 of those 226 were actually busing out of the Bow Island area. They should be going to schools in Bow Island."
These are Mennonite families that have chosen the modality and educating in Burdett to be together as one group, Clarke added.
Clarke says PRSD considered what other solutions the school division might have and looked at Senator Gershaw where numbers have dropped over the last five years by 50 kids.
"They're down to 170 kids in the Grade 4-12 school," said Clarke.
"They have some space in that school, more than they did before. We started thinking what would happen if we added space to Senator Gershaw and make it a K-12 school. The current Bow Island Elementary could be the new Burdett. We wanted to talk to both communities about that. What do you think about that idea and to look at what that cost might be to modernize or build a new school in Burdett as compared to what the cost would be to add modular units (at) Bow Island Elementary and Senator Gershaw."
Clarke estimated a brand new Burdett School would cost $14 million or a modernization of $16 million while it would be $5 million or less to add on modular units to the Bow Island schools.
"Five million is a whole lot different of an ask to Alberta, who is struggling financially right now than it is to ask for $14 or $16 million and on top of all that if this was agreeable to our board of trustees as well to all the communities involved, if this is something that people saw as a good thing then we're transporting less kids," he said.
It was outlined during both consultations that PRSD is paying money into transportation that the school district is not funded for.
"When we're busing kids that are in the Bow Island catchment area and we're busing them pass Bow Island and bringing them to Burdett, we're not funded for that," said Clarke.
"Nor are we funded for non-Mennonite kids in the Burdett catchment area that we're bringing into Bow Island. There's dollars we're spending that we wouldn't need to spend anymore and we would be funded appropriately in the transportation area then."
However, there would see be the nostalgia feeling in Burdett with not having a school and the possibility of not having that facility there would be really hard, added Clarke.
"I asked them last night 'how many of you have been in the area for more than 10 years?' and very few hands went down," he said.
"The ties to the facility itself are not that strong. It's probably in my estimation, listening to the discussion last night, the ties are probably stronger in the staff that may have been in Burdett for over 20 years."
A survey will be sent out in the near future so PRSD can gather feedback and the information will be provided to the board of trustees.
The board of trustees will consider the information from the survey which is expected back by the April 14 meeting.
If there is an adjustment to the Capital Plan then there will be conversations with Alberta Education where a value scoping exercise will be done in the Bow Island and Burdett area to determine if this is a worthy project.
Clarke says then PRSD would wait for the approval.
If all goes to plan, Senator Gershaw would become a K-12 school with the elementary kids moving over from next door while Bow Island Elementary would become a K-9 Mennonite Alternative Program.