Forettes gaining confidence heading into the stretch drive
Posted on February 25, 2020 by 40 Mile Commentator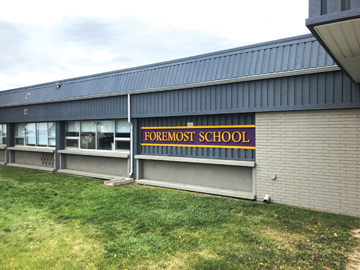 By Justin Seward
Commentator/Courier
With a younger roster that only houses two Grade 12s and one Grade 11 , the Foremost School Forettes senior girls basketball team did not initially set the bar high this season.
However with less than a month to go in the season and zones and provincials right around the corner, the purple and yellow are feeling optimistic down the stretch.
"We would like to win a banner this year but the South Zone is always a hard one to get out of. And so getting a berth in provincials is definitely our goal," said Laura Rumpel, head coach.
Rumpel feels the team is going the extra mile in the stretch drive of the season.
"I think this last little stretch, they know is the big push," she said.
"They've set the bar high for themselves too and the extra conditioning and extra shooting. Like when we don't have practice, that was their decision, I suggested it. They want that zone banner. It's nice to know that we have our leaders and young girls want to follow that.
"Doing stuff on their own is really important because you do school work on your own time. Sometimes you forget to practice basketball on your own time."
Due to the uncertainty of not fielding a team this year with low numbers, the team only entered three tournaments as opposed to the normal five and Rumpel says it's turned out OK.
"It just means we had way more practice time in January and sometimes that can be really beneficial to work on their skills and development that they don't get in a game," she said.
The five Grade 10s and one Grade 9 have adjusted really well to the senior level.
"I think they've adjusted really well," she said.
"I think they're coming along, they're learning and gaining their confidence. When they go on the floor they get subbed in with confidence. I've been very happy with their improvement."
Rumpel said with the season winding down, "play every game like it's your last game and keep your eyes on the prize and play with confidence."
With Foremost used to playing late into seasons recently, coach Rumpel focuses more on game tapes of their opponents to prepare for games.
"Whereas before it's kind of a broad range of game skills and individual skills and now I focus on game tape I have from other teams," said Rumpel.
Rumpel says there are a lot of fans that attend zones at Lethbridge College ever year to cheer the team on.
"It's really amazing, the support from our community and with being a half hour away, I know that will happen at provincials (in Bow Island) too," she said.
The Forettes dropped from third to fourth in the recent 1A provincial rankings.