UNA encourages push back from nurses for health care services being reduced
Posted on February 25, 2020 by 40 Mile Commentator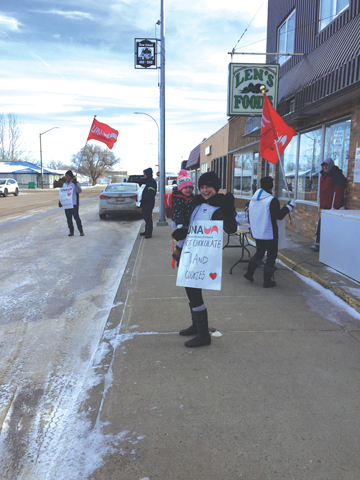 Photo submitted by Darlene Dunlop Bow Island UNA members participated in the information rally on Feb. 13.
A big item the provincial government and the recent Alberta Health Services (AHS) review proposed was a significant rollback of services in their agreement.
The decision allowed UNA (United Nurses of Alberta) members province-wide to hold information walks or rallies earlier this month, according to the UNA's second vice president.
Bow Island nurses participated in the event on Feb 13.
"Nurses were wanting to draw attention to the public about our concerns surrounding the detrimental effects that those cuts would have on patient care," said Cam Westhead, UNA's second vice president.
"I guess particularly in small towns often times hospitals or health care facilities can be one of the larger employers and a very good place for people to access services or emergency rooms. Some of the recommendations in the AHS review considered consolidating services like emergency rooms … so this could have a very significant effect on the services that Bow Island and areas have come to expect and they deserve."
Westhead says while the UNA has no plans to have anymore UNA rallies in the foreseeable future, that he reminded the public that one of the jobs of nurses is to protect the public, patients and deliver excellent patient care.
"When we see the reccomendations that the government is accepting in that AHS review, we're going to continue to draw attention to the cutbacks until this negatively effects Albertans," said Westhead.
He says it is important to hold these rallies because during the provincial election Jason Kenney and the UCP promised not to make cuts to front line services.
"That was a pretty clear promise that he made (on a) giant piece of cardboard and said that he wouldn't make cuts to health care," he said.
"Now we're looking at layoffs just for registered nurses and registered psychiatric nurses alone, about 750 layoffs in position elimination. In the broader health care system there's several thousand positions to be eliminated."
The AHS review talked about closing acute care beds and consolidating services, which he says is code word for closing services.
"This is a clear broken promise of Jason Kenney," he said.
"We think Albertans deserve to know that he's making these numerous changes because you won't hear it from him."
Another issue is the way the Alberta Medical Association agreement is being rewritten by the government which has a disproportionate lead negative effect on rural family physicians.
"Because doctors in rural areas are on-call and have to cover a wide geographic region, the way they're being compensated under this new funding arrangement, it does not give them incentive to go to rural areas to practice," he said.
" We know nurses and doctors work closely together to care for Albertans. We're concerned that in rural areas specifically services may be withdrawn."
The challenges rural areas faces comparatively to Edmonton or Calgary is having the one emergency room as an option that covers hundreds of kilometres whereas in the cities there is more than one hospital to go to.
"One of our concerns is that the Ernst and Young report identified a fair number of emergency rooms that are being under utilized and those were rural hospitals. But the report did not identify which ones they are," he said.
"The government is not providing us that information. They kind of left us in the dark about what the plans are."
UNA's goal has been to train nurses on how to lobby and meet with their MLAs to convey their concerns and go to talk with their neighbours and friends as well.
The Commentator was unable to reach a Bow Island UNA representative as of press time.
UNA represents 30,000 registered and psychiatric nurses.