Shufflebotham thinks college is well positioned to weather the storm with cuts
Posted on March 3, 2020 by 40 Mile Commentator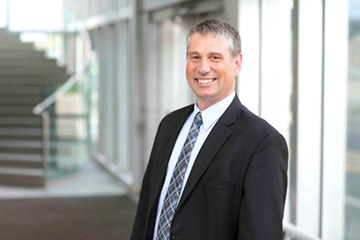 Kevin Shufflebotham, MHC's president
The Medicine Hat College is now preparing for more funding shortfalls starting in the next school year after seeing the release of the provincial budget on Feb. 27.
The provincial government cut the overall Campus Alberta Grant by six per cent in its budget.
MHC found out that its Campus Alberta Grant will be reduced by 1. 7 per cent or around $540,000 in the coming year.
The grant supports the delivery of approved credit programs and apprenticeship seats.
Institutions use their own money as they see fit, based on their needs and priorities.
This move is a part of the continuing declining in the coming years along with the government's reduction to system-wide funding and shift towards performance targets.
"There were really know surprises," said Kevin Shufflebotham, MHC's president.
"The government confirmed a five per cent reduction to the provincial Campus Alberta Grant . There was a differential right across the system. Even though they were saying the grant would be reduced by five per cent overall, some institutions took less of that and some institutions took more of that."
He says the deficit is significant.
"Medicine Hat College has been incredible stewards of their resources and maybe many years ago you could've absorbed a half-a -million cut but now we're now not at that point," he said.
"My belief with what your asking is about positions, the positions will be impacted absolutely with this cut. But when we make decision on how to proceed and how to find that $500,000, we're in a really good spot. We just had a newly approved strategic plan and the decisions we make will support that strategic plan and have minimal impact on our students."
Every institutions drop varied as he had heard there was a campus that took hit of 6.9 per cent compared to MHC's 1.7 per cent and he was uncertain as to how the government determined which reduction went where.
Shufflebotham says the other piece that was no surprise was the Infrastructure Maintenance program funding being restored to last year's levels.
"This year in our 2019-20 budget, $1.3 million was taken out and for next year it was put back," he said.
Schufflebotham says since there was a five per cent reduction in the fall budget, there was minimal impact.
"I think Medicine Hat College only took about a $9,000, so again very minimal compared to what other institutions were having to face across the system.
He anticipates there will be a five per cent cut next year and the year after to the grant.
Students will pay seven per cent more in tuition starting in September as a result of continued funding cuts.