Near record snow pack in Cypress Hills
Posted on March 10, 2020 by 40 Mile Commentator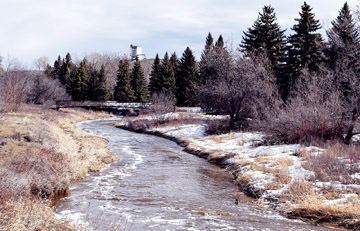 High water levels in the Seven Persons Creek in Kin Coulee park in Medicine Hat are shown on Monday morning. Forecasters are now releaing their predictions for spring run off in the southeast region. -- NEWS PHOTO COLLIN GALLANT
By Collin Gallant
Alberta Newspaper Group
This year's snowpack in Cypress Hills was among the highest recorded over the past 35 years of record taking, according to new figures.
Each January, Environment Alberta takes measurements along three creeks that flow out of the Hills and begin releasing figures as part of their snow-course runoff forecasts.
Measurement from the Gros Ventre, Mitchell and Ross creeks this winter showed snowpack of one-and-one-half to twice the average, which each of six sites sitting top-four or higher since record taking started in the mid 1980s.
Half the sites were second only in volume of snow-water equivalent to those in 2011. That year saw significant flooding downstream when heavy rain in spring caused a rapid melt on top of already sodden soil.
Current year values on the Gros Ventre upper site measured 121 mm, about 25 per cent less than 2011, but still No. 2 in the record book.
The similar situation was recorded along the length of Mitchell Creek, while lower stretches of Ross Creek ranked No. 2 compared to other years.
River forecasters have predicted above-average flow in major basins, including the Milk River, Oldman, Bow and South Saskatchewan, due to high snowpack.