Disappointment felt among local sports teams
Posted on March 17, 2020 by 40 Mile Commentator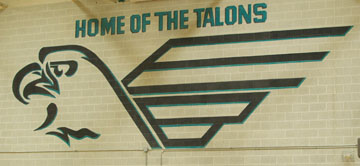 By Samantha Johson
Commentator/Courier Freelancer
Locally, events are being cancelled as per recommendations by the Alberta Government. One is the 3A Zones Basketball Championship at McCoy High School in Medicine Hat and the provincials that were to be held later this month in Edmonton.
Mathew Duncan, senior and junior coach for the Eagle Butte Talons boys basketball teams, said, "Everyone is disappointed that zones and provincials are being postponed, but I think everyone understands and respects the decision. Hopefully this isn't the way the season ends, especially for the seniors who likely won't get to play basketball at any level again."
Brandi Stroh, senior girls coach for the Talons, said, "We were surprised to learn of the cancellation of our zone playoffs as we arrived at McCoy last night to an empty gym. We were going to watch the game between Winston Churchill and CHHS to support our boys team in a later game. We had just spoke at practice that provincials could possibly be cancelled."
" In truth, some of these girls may have played their last game of basketball without even knowing it, which is a little sad. I know the girls were excited to finish this season with the possibility of making provincials, but with all that is happening with the coronavirus right now, it is absolutely understandable why these precautions are being taken."
It was announced on March 15 that schools were closed across the province indefinitely and ASAA (Alberta School's Athletic Association) announced last week that high school zone and provincial championship were cancelled.
Minor Hockey is also being affected in Alberta. Talking with Sheridan Siewert from Irvine Minor Hockey, "this year in Irvine, all teams completed their season this past weekend. The final rounds of playoffs and Provincials have been cancelled but Irvine is not affected."
The Redcliff Grizzlies were scheduled to have their final game of the season on Friday, March 13th against Fort Macleod at the Redcliff arena.
County's stance on COVID-19
Cypress County has posted a couple of things on Facebook with respect to COVID-19. One has several links to aid the public in keeping informed about the current situation. The county states they will be operating as usual but are committed to taking steps to reduce the risk of COVID-19.