PRSD bus drivers take on new role for food bank
Posted on March 25, 2020 by 40 Mile Commentator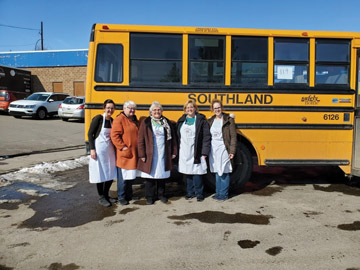 Submitted Photo School bus drivers for Prairie Rose, through Southland Transportation, are delivering hampers for to local families in need while the region hunkers down over COVID-19.
By Jeremy Appel
Alberta Newspaper Group
Bus drivers for the rural school division are finding work in this pandemic helping the local food bank deliver meals to those in need.
Prairie Rose School Division bus drivers, who are contracted out by Southland Transportation, are delivering packaged hampers to food bank recipients, including the families of PRSD, Medicine Hat public and separate students enrolled in their nutrition programs, as of Tuesday.
"Our contract is ongoing through this crisis, so we talked to (Southland) about utilizing them through another means," PRSD assistant superintendent Reagan Weeks tells the News.
"They're helping us with deliveries for the food bank and they'll also help us facilitate our own nutrition program going forward in all the different communities Prairie Rose serves."
The board's family-school liaison workers identified students who "require nutrition support" from home, teachers are making instructional videos on how to assemble the ingredients and the EAs are packing them up, Weeks explained.
The nutrition program is part of a provincial effort to encourage healthy eating, particularly in low-income households.
"We want to ensure that continues, because we have been able to maintain that funding and, obviously, want to use that funding to feed kids," she said.
Weeks says she's "grateful" the drivers, who aren't directly employed by PRSD, accommodated the change of plans brought about by the COVID-19 epidemic.
"Whether it's bus drivers or EA's, were all working to create the best learning environment we can. They're an important part of that and were happy to do so," she said.
Medicine Hat and District Food Bank executive director Celina Symmonds, who is also an MHPSD trustee, says the three local school boards approached her at the onset of the crisis to see how they could help their students and the general public.
For its part, the food bank is conducting all its work with clients over the phone.
"If they phone in and leave a message, we'll call them back and make arrangements for delivery of their food hamper to their home," says Symmonds. "The food bank plans to stay open as long as it can."
Weeks says it's truly remarkable to see the community come together this quickly.
"As we're trying to navigate our ways through this unprecedented crisis, it's just amazing to see so many people step up right away with thinking outside of the box, which we're probably going to need to get through this as successfully as possible," said Weeks.
Those looking to donate to the food bank can send an etransfer to donation@mhfoodbank.com