Foremost School's learning packages being rolled out Wednesdays
Posted on April 1, 2020 by 40 Mile Commentator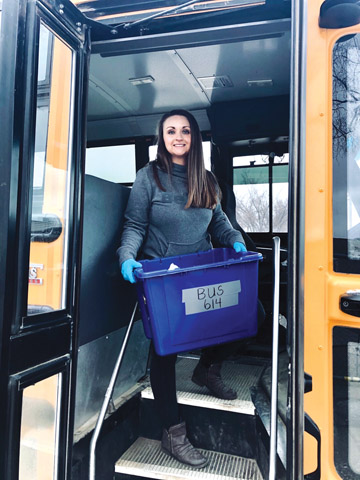 Submitted Photo Nikki Hollingsworth helping with packages for Foremost School students on the bus.
By Justin Seward
Commentator/Courier
Foremost School students will be receiving their learning content every Wednesday through a couple of methods.
For the out-of-town students, paper packages will be delivered in the middle of the week and all families have been lent Google Chromebooks if they need a piece of technology in the house.
"All families have access to at least one piece of technology, either their own or through the school," said Simon Moreton, school principal.
Deliveries will be made through bus.
"We've got eight buses. We're running four in the morning with our EAs on the bus and the bus driver," said Moreton.
"They are driving to the families that still require these packages. They are opening the door, laying the package down and then the family comes out and collects the package."
There are also four buses in the afternoon that do a run.
For those students in town, they can pick up their packages at the school.
"We have a system where there are 'X's and a 'do not cross line' until called. We have runners that run into the gym and the gym is all organized. When a family comes we just call out the last name and a runner picks up that family's package and some of this does include food for certain families that have been hit very hard."
The package is then left outside the door and that student is called up to collect it.
"People have been staying in their cars until everything is gone. The social distancing has worked really well," he said.
These initiatives would not be possible without the hard work put in by the staff.
"Our staff has been above and beyond. They are supporting their kids," he said.
Moreton says the feedback the school has been receiving in the second week so far has been very good.
He was planning to meet with the community on March 26 through Google Meet to get more feedback on obstacles they have been encountering either with the students or the learning to make the system more efficient for everybody.
The impact of school closures is being noticed among staff.
"I know it's having an impact on me and my staff because we really miss the kids," he said.
"We have posters up saying 'we miss you and 'be good.' We're interacting with kids as much as we can online through (Google) classrooms. It's a digital meeting room and the teachers have these set up for their classes. At Foremost School, we got an awesome staff because everything is up, running and it is going very smoothly."
There are chromebooks still available at the school and can be arranged to be dropped off by calling the school.