Gershaw, BIE produce effective digital learning tool during the COVID-19 crisis
Posted on April 1, 2020 by 40 Mile Commentator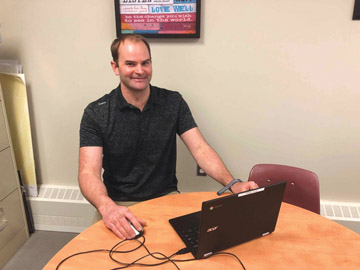 Submitted Photo Scott Angle, principal of Senator Gershaw and Bow Island Elementary schools.
By Justin Seward
Commentator/Courier
Bow Island Elementary and Senator Gershaw schools did not waste anytime coming up with a plan when it was announced in mid-March that K-to-12 school classes were suspended indefinitely due to the COVID-19 pandemic.
The institutions are utilizing Google Classroom to deliver material from teachers to their students while at home.
"The benefits of Google Classroom is it allows teachers to deliver material to our students. Students can work on it digitally and then return it all through one platform," said Scott Angle, principal for both schools.
"We chose Google Classroom because it was a system that students were previously using in main classes to help supplement the classroom so it made the transition fairly seamless."
Angle says Senator Gershaw teachers were prepared to use the system a couple of years ago when the school hosted a Google Summit where all Prairie Rose School Division teachers learned how to navigate a more digital-based system.
Google Classroom will allow the students to receive assignments, work on them digitally and submit the assignment back to their teachers.
"Teachers can provide links to their instruction, other key resources or any comments they would like to give to students," he said.
"Students can ask questions to teachers about assignments, teachers know when assignments are completed and turned in, and it is fairly user friendly for students with all of Google-based products. Seesaw is the program that Bow Island Elementary is using more and with that program students can put pictures of completed work, videos of what they are completing. It has a whiteboard to show work and students can speak along with it, write notes to the teacher, and teachers can provide links to supplement student work."
Teachers are using Google Meet to help work with students or meet as a class.
"This allows students to feel like they are in class at home," said Angle.
"Parents can also get a summary of their child's work to keep track of their child's work, to keep track of how their child is doing. The other benefit is students in both schools are familiar with these platforms which decreased the learning curve for students."
A 'fun' method that both schools are using is Flipgrid, which allows students to express their learning through a video-based program.
Additionally, it allows students to interact amongst each other and the teacher when they're not in a traditional classroom setting.
"Teachers provide a video prompt, students respond to that through video and can comment on each other through video," said Angle.
"As an example our physical education teacher posted a Flipgrid challenge to his students to show how they are doing physical activity at home. This lesson prompt was fun and students had a great time doing it."
This also presented a great opportunity to promote mental health and staying active as this is very anxious times for both parents and their kids during these uncertain times.
"In our schools we want to make sure students and parents are not only getting academic support, but equally important they are receiving social emotional support and connection that they would normally receive in a classroom," said Angle.
Parents have been nothing short of impressed with the methods being taught through technology at home.
"Our kids are Senator Gershaw students. Their transition to the digital classroom was smooth and seamless- they were back 'in class' by Tuesday morning (March 17),completing assignments and fun projects at home. Great job SGS staff!," said Robin Thacker.
Tara Friesen Lockhart said "Teaching staff have been creative and amazingly responsive to this online learning."
"Us as parents,appreciate all their hard work giving our kids some purpose everyday and engaging their minds. When it looked like school would be done for the year, they stepped in and had a plan, bravo."
Kim Noble-Mitchell has kids both at Bow Island Elementary and Senator Gershaw and says as a parent it has given her some direction and still gives some responsibility.
"Most importantly, they still feel connected with their teachers and classmates," she said.