Dunmore Equestrian Centre's event season in limbo
Posted on April 8, 2020 by 40 Mile Commentator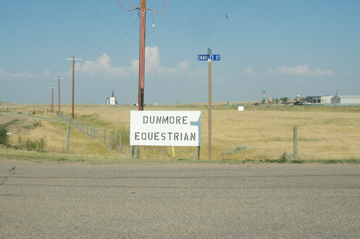 By Justin Seward
Commentator/Courier
The Dunmore Equestrian Centre had shut its gates for now due to the safety measures rolled out by the provincial government during the COVID-19 pandemic.
The centre is considered to be under the umbrella of a park or public facility and riders are now unable to use the arena at this time.
"We still have events pending but they could be cancelled. We're not sure yet" said Cathy Schnell, Dunmore Equestrian Society board member.
Some major events in limbo include the Saamis Barrel Racing that was set to commence this year on May 12 is postponed until further notice, the Little Britches Rodeo in September, the Chore Team Competition in mid-June and the Desert Dwellers Cowdog Trials at the beginning of June.
"Whatever is there is already booked," said Schnell.
"I think provincially, all the barrel racings are not going to make a determination until May I believe. I think it's just on a monthly basis like we're going to see next month where everything is."
Schnell says if it were to be a "zero year" for the Equestrian Centre there will be no revenues and there will be no programming.
"It will have a huge impact on mental health and well being, recreation," she said.
"I'm glad at this point we actually didn't receive one grant, so out of that programming grant this year to use, I don't know how I (would have )used it. It would be tricky."
The Society is looking at the possibility of doing online fundraising method because their annual silent and live auction will end up being postponed this year, she added.
"There is no person or business in a position to donate anything at this point this year," she said.
"That is our major source of operating funds. Last year, we made over $70,000 in that one night in our auction. We're thinking we probably won't even do one this year. Most of the businesses (and) the farmers and ranchers that donated aren't doing very well right now, so how do we ask the businesses and stuff to donate."
Schnell says the Equestrian Centre will pull through with the responsible board.
"It's going to be very hard on a private individual that has a boarding facility. I worry for them," said Schnell.
"To me they're going to have a harder time because they've had to cancel lessons and programming. Hopefully they're able to access some of the federal government funding to keep their business up and running."
Event decisions can be found on the equestrian centers Facebook page at 'Dunmore Equestrian,' or at http://www.dunmoreequestrian.com.