Redcliff's Trukker's Restaurant feeding truckers through donations
Posted on April 15, 2020 by 40 Mile Commentator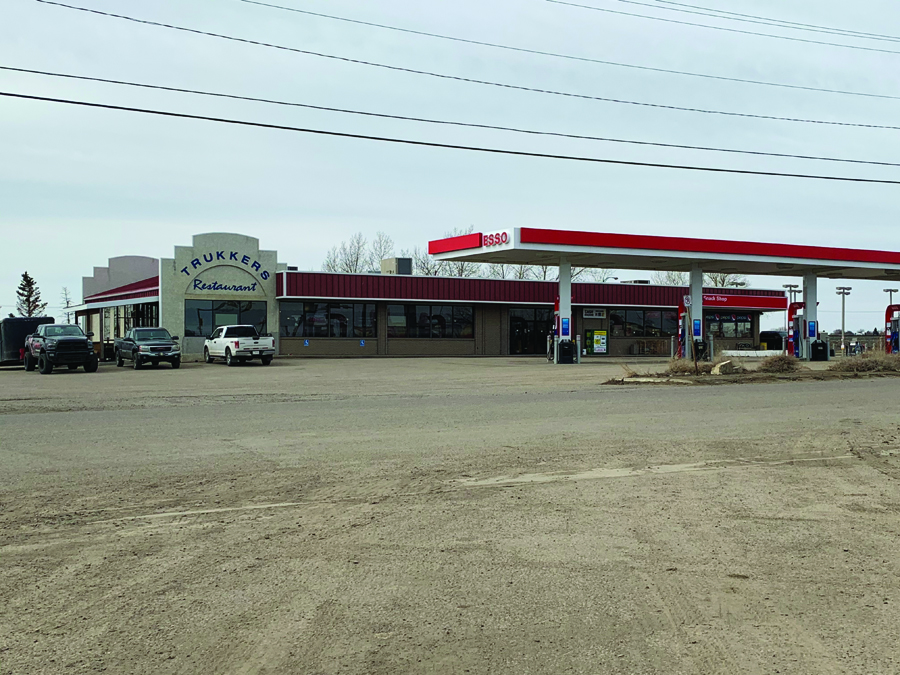 Commentatator/Courier Photo by Justin Seward VERY THOUGHTFUL: Communirty donations having been rolling in to TrukkerÕs Restaurant to feed the truckers who are working long hours during the COVID-19 pandemic.
By Justin Seward
Commentator/Courier
The well-known Trukker's Restaurant in Redcliff may have gotten the boost they needed during the COVID-19 pandemic near the end of last month.
It was thanks to a $100 donation on March 21 by Redcliff's Jason Braun to the newly established "Truckers Meal Fund" that paved the way for other people to donate to feed the truck drivers who are working long hours to keep frontline services open.
"He came in and said 'Hey Deni if I give you $100, can you buy some meals for truckers?" said Deni Watson, restaurant owner.
"I'm like 'Oh. Woe, yeah thanks Jason I'll do that. That's super cool.' I put a thank you on Facebook, just saying 'Thank you Jason Braun for your donation.' And within two seconds I got another donation from a former teacher (Lloyd Bray). I think what happened, Jason was the first and I think Lloyd made everybody feel OK to copy."
Watson says the restaurant felt like donations were coming to an end as the meal fund had only $12 left by the first weekend in April.
"I put a thank you on to some people that had donated and that day I couldn't tell you how many donations I got and the next day I got equally as many," said Watson.
"I was so overwhelmed. I was like what just happened."
Watson figures she had about $2,000 in donations for meals prior to running low.
She has also been receiving donations from as far away as Sylvan Lake and Calgary.
Funds were also received from local school kids as well as from the late Ken Hauck's family who contributed to the fund on his April 6 birthday.
Hauck was a regular customer before he passed away.
"We're able to buy quite a few more meals here," she said.
Truckers can pick anything off the menu.
Business is down 80 per cent at Trukker's while 27 workers were temporarily laid off and eight employees are working reduced hours.
People can E-transfer to the fund when they contact Watson for her email through messaging 'Trukker's' Facebook page or calling the restaurant at (403) 548-3536.
Watson is keeping all the bills that were bought through donations and plans to reveal a total at the end in a Facebook post at a later date.