Redcliff parks remain open with cautionary measures in place
Posted on April 21, 2020 by 40 Mile Commentator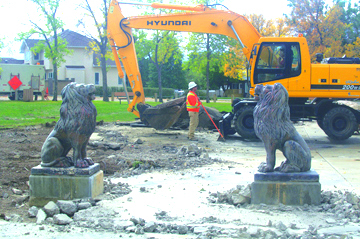 Commentator/Courier File photo NEW SPLASH PARK COMING SOON: The old Lions Park splash park was demolished last fall, making way for the new one to be installed in the coming weeks.The parkÕs opening will be delayed because of the COVID-19 pandemic
By Justin Seward
Commentator/Courier
For the last couple of weeks, the Town of Redcliff has taped off around its parks' playground equipment in effort to try and limit the spread of COVID-19.
Trails are still open for the public to walk on.
"I believe we have 17 parks, so no matter which park has equipment on it in the Town of Redcliff, you'll find the caution tape on it," said Derrin Thibault, the town's director of community and protective services.
Thibault estimates at least half of the parks' playgrounds have caution tape on them.
The Redcliff Municipal Campground will operate as normal but the bathrooms and showers will not be open and there won't be any tenting allowed.
"Our campground isn't actually officially open yet. We've got a couple of projects that we need to take care of there," he said.
There will be landscaping and a water line project ongoing before the campsites open up and will be two to three weeks of work.
"As long as they (the campers) have self-contained units then we'd very likely allow people to utilize the space," he said.
The campground will be open towards the end of May .
With the campground being town operated, the sites are allowed to stay open, as the province has only closed its provincially owned camping areas.
The new Lions Park splash park will going ahead with the construction in the coming weeks, however, the opening will be delayed from its annual opening date of May long weekend.
The skateboard park is still on track to break ground at the end of July next door to the aquatic centre.
The province has not shut down construction of any projects as a result of the COVID-19 pandemic.