Redcliff woman half way through challenge to paint 2,020 rocks this year
Posted on April 21, 2020 by 40 Mile Commentator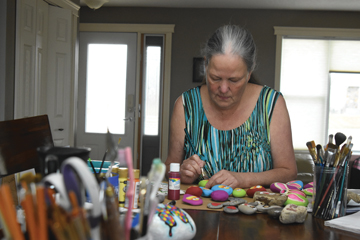 Alberta Newspaper Photo by MO CRANKER Redcliff resident Sue Bowers paints a rock in her house on Saturday. Bowers is painting 2,020 rocks this year.
MO CRANKER
Sue Bowers' house has been overtaken by rocks… and she wouldn't have it any other way.
At the turn of the New Year, the Redcliff resident decided to give herself a bit of a fun challenge – paint 2,020 rocks for throughout the year.
She's off to a blazing start.
"Not including the ones in the kitchen right now, we're at 1,150 done," she said. "I guess it started in August when I retired. That's when I started playing around with rocks 
"I was painting a few rocks and sending them out to the world.
"When this year started, I just wondered if it was possible to do 2,000 – that's where this came from."
After the rocks are painted, Bowers and a number of Redcliff residents take to the streets, trails and parks in the town to hide them. Bowers says the new hobby has come at a perfect time.
"I think right now, people need something to focus on," she said. "We're all staying inside and we need something to do that makes us happy."
Bowers says she will continue to paint rocks, even after she completes 2,020.
"The time just flies when I'm painting," she said. "I really love doing it."
With so many rocks to paint, Bowers is able to explore different styles and themes with her peices.
She has painted rocks to pay tribute to healthcare workers. She has worked with themes about autism awareness and mental health.
"I started with ladybugs and have really expanded from there," she said. "I can say a lot with these small paintings and you never really know who is going to find your rocks."
Bowers and her husband have lived in Redcliff for 26 years. She has created a Facebook page where she posts updates on her progress. People are also able to help her hide the rocks.
The page can be found by searching '2020 Redcliff Rocks!' on Facebook.