South Zone AHS ready for what comes
Posted on April 21, 2020 by 40 Mile Commentator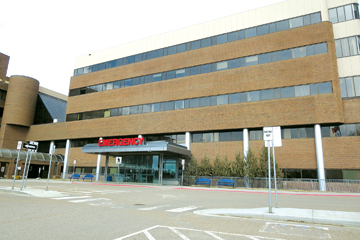 By Gillian Slade
Alberta Newspaper Group
Emergency planning by Alberta Health Services for this region includes having hundreds of hospital beds at the ready and increased ICU capacity.
The goal has been to have 1,500 hospital beds across the province available for COVID-19 patients, just below 200 for the south zone and 60 in Medicine Hat, said Katherine Chubbs, chief officer for Alberta Health Services' south zone.
"We have been successful in trying to maintain that in the last week or so, keeping those beds open."
To maintain those vacant beds elective surgeries have been cancelled – a measure taken at any time there is over capacity in hospitals – but currently this is over an extended period.
"We have to be prepared for things to happen very quickly," said Chubbs, noting the peak is now expected late May. "We expected to see a peak much sooner."
Staff in the hospital are being redeployed in the meantime to where they are most needed now. This includes screening visitors and staff. Assessments are being done to deploy people from the surgical area to places where their skill sets can be used, said Chubbs.
The province has a total of 509 ventilators currently and by the end of the month will have 761 for COVID patients. Chubbs says a provincial plan includes having ventilators available where they are most needed. She is comfortable with the number of ventilators and ramped-up ICU spaces to meet the anticipated need. In addition to the normal ICU the day surgery area will also be ICU.
"We will ramp up our ICU spaces which ventilators are a part of," said Chubbs. "If we reach a peak of ICU capacity we will have a provincial plan and redirect patients to be able to respond to that."
On March 6 the south zone established an emergency operations centre covering aspects such as screening, swabbing, redeployment of staff, personal protective equipment, what services remain constant and which ones have to change.
Chubbs says the supply of PPE for the south zone is good and management of that supply is part of the plan.
Even if the best estimate of hospitalized cases at the peak of the pandemic has been underestimated, there is also a plan B being developed, said Chubbs. If all of the staff became ill, physicians are depleted, not enough equipment, there is a plan. Before any buildings outside of hospitals will be used, the plan is to use all hospitals across the province at capacity and move patients accordingly. Plans to find additional staff include using pharmacists and even administration staff for some aspects of patient care.
Screening of AHS staff arriving for work includes temperature taking and questionnaires. COVID-19 tests are done for those who meet the criteria, said Chubbs. As essential workers these tests and results can be expedited if it is essential for them to be back at work.
"As we get busier with the implementation of our pandemic response then we will probably have to see more of that happening," said Chubbs.