Rootz Hair Salon glad to be giving haircuts again
Posted on May 27, 2020 by 40 Mile Commentator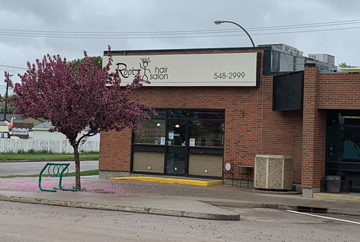 Commentator/Courier Photo GLAD TO BE BACK: Rootz Hair Salon is glad to be back to work and seeing their clients again.
By Justin Seward
Commentator/Courier
It has been a long couple of months for Redcliff's Rootz Hair Salon as all of its employees were laid off amid the COVID-19 lockdown.
However, the excitement was felt on May 14 when hair salons were included in Phase 1 of the province's relaunch.
Since the announcement was made, staff has been in the salon since that day preparing for the official opening day of May 26.
"When I heard myself personally, I was pretty excited to get back to work because I miss seeing all my co-workers and clients," said Melissa Wiens, stylist at the salon.
"I feel everybody here was feeling the same way. They were pretty excited to get back."
Apprehension was felt at the salon because they had to wait so long to find out from the government what protocols they would have in place and when businesses would be given the OK to open.
"That part was kind of stressful," she said.
"We have everything together for safety in here. It's amazing."
The stylists have to wear masks while disposable masks are available for the clients to use.
"We have a schedule. We can't overlap too many people working at one time because of social distancing " said Wiens.
"We have to figure out a different schedule now for us. But it's still working. When the customer gets here for their appointment, we actually have to call them in when we are sanitized and ready to go. Then when they come in, they have to sanitize their hands and put on a mask."
Only two stylists are scheduled to work at a time and an extra 15 minutes is taken to sanitize stations, she added.
Clients' appointments that were cancelled were contacted first for new bookings before the 26th and new customers were allowed to schedule a hair cut after that date.
The salon had renovations during its temporary closure.
"It looks bright and brand new," she said.