Fry day fundraiser raises over $300K for HALO
Posted on June 4, 2020 by 40 Mile Commentator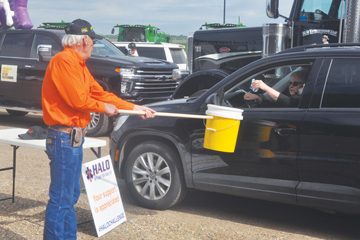 Commentator/Courier Photo by Justin Seward Halo board member Bruce Regier accepts a cash donation from Karen Grinnell
By Justin Seward
Commentator/Courier
McCain Foods, Western Tractor and J.E.B Transport teamed up for a Free Fry day fundraiser for HALO air ambulance on May 29.
The event saw McCain give out 7,500 bags of free fries at Western Tractor's Medicine Hat, Burdett, Taber and Lethbridge locations as cars drove through the parking lots, while HALO volunteers had buckets out to take donations for the local air ambulance service.
The event anticipated to raise $100,000 for HALO between corporate and community donations, but that number went upwards to $320,000 by the end of the tour.
"We're so unbelievably grateful and blessed to be a part of the southern Alberta community," said Paul Carolan, HALO's chief executive officer.
"You can't underestimate the generosity of the people in this part of the province. They really stand behind things they believe in. We're overwhelmed at the support we've received today and we left the goal for fundraising today in the dust and surpassed it by three times."
Carolan says the day also entailed great conversations and great messages from the people driving through, in hopes of keeping the program in the air by being at the event and dropping money in the bucket.
"Right down the 'Highway for HALO' all the way to Lethbridge, it was just unbelievable and a heart lifting day for sure," said Carolan.
Overall, with the successful day, Carolan thinks this event established the support that HALO has in southern Alberta and how important it is having this service available when they need them.
"We're just making sure that we do a good job of representing that support to the Government of Alberta and really making it clear to them that there are a lot of voices down here saying we don't want to be treated as second class citizens," he said.
Steven Dyck, president of Western Tractor, said for the company, HALO is really close to their hearts.
"We've been supporters for many years and when we heard that they were falling on financial difficulties, and there was the potential that we could see them grounded, we knew we had to do something," said Dyck.
"We also know that our potato producers and our potato plants who were seeing massive decrease in the number of consumption of french fries in southern Alberta, across Canada. We wanted to raise some awareness."
There are three majorpotato processing plants in southern Alberta and a lot of acreage grown here, he added.
"We thought can we put potatoes and helicopters together and make a fundraiser out of this," he said.
"We talked abut it, came up with a plan and we got McCain on board. They, in 24 hours, donated a reefer truck (full of) french fries, 7,500 bags. That's $40,000 worth of french fries right there."
HALO fundraisers have started up everywhere from Facebook to businesses accepting donations after it was announced in early May that the air ambulance was going to have to scale to back to its single-engine helicopter June 1 and ultimately could cease operations by July 1 if they did not receive government funding to operate.