Prairie Instincts focuses on building relationships
Posted on June 4, 2020 by 40 Mile Commentator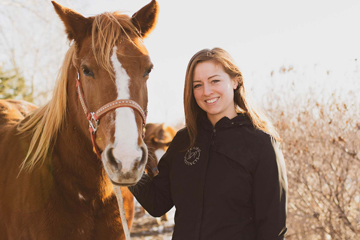 Photo submitted by Photos by Carrie FOLLOWING HER PASSION: Prairie Instincts owner Kenzie Schulze and horse Chomper.
By Justin Seward
Commentator/Courier
Kenzie Schulze has followed through her dream of operating an animal-assisted therapy program business.
Prairie Instincts opened up last fall at her private Holsom Road property where life skills are taught using horses.
The 29-year-old mother of twins decided to start up the business because it combined her farming background with her registered social worker job.
It allows her to enjoy what she does and helps people find something they enjoy to benefit them, she says.
Equine assisted learning is the program's focus and participants do the whole session without riding the horse.
"There's no riding," she said.
"I set up these big obstacle courses and people are teamed up. There are two people and one horse working together. Then they have different obstacles and challenges they have to go through that really initiates the thinking process."
She works with youth that are ages eight and up, a group that she was going to do a pilot project with two of the local school districts before everything was shut down due to the COVID-19 pandemic.
The other group, which was the first participants she started her business with, is the Unbridled Moms.
"Just moms from the community get together with me, and for that one I've also partnered with a psy chologist from town," she said.
"We do six weeks. We meet once a week for about 90 minutes. We do 45 minutes of the Equine Assisted program and 45 minutes of basically a discussion with the psychologist on how it relates to parenting. It's about building strong relationships. We talk about patience and building trust."
The horses are the main component of the program and play a crucial role in the human-animal interaction.
"I believe one of the greatest characteristics of horses (and animals in general) is that they are non-judgmental, which helps people feel like they belong and that they are good enough just the way they are," said the Manyberries native.
"In a world of unrealistic images through social media and constant pressure to meet expectations. That factor alone is a huge benefit to people who interact with animals, regardless of whether it's through my program or not. I'm trying to give more people access to that and then build skills that will help maintain those positive feelings."
She ran three mini-introductory sessions in the fall and could not do anything after that because spring came and the COVID-19 pandemic occurred.
When things start back up, she plans run a couples night, family groups and business teams.
She currently has 10 volunteers helping her out.
More information can be found at http://www.prairieinstincts.com.