County fire chief happy with low call volumes during pandemic
Posted on June 11, 2020 by 40 Mile Commentator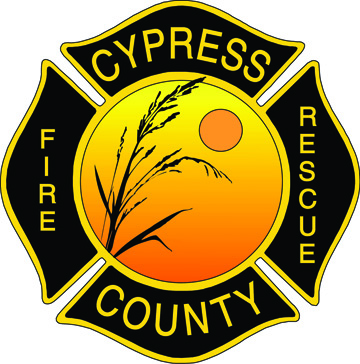 By Justin Seward
Commentator/Courier
Cypress County Fire Services have been fairly quiet since COVID-19 began in mid-March.
"We have responded to a few fires, structure fires (and) trailer fires during this whole COVID-19 incident," said Kelly Meyer, Cypress County fire chief.
"Our medical calls, we've attended a couple of them, nothing COVID-19 related. But our call volume is pretty much on track for previous years in history. With this (recent) rain, it kind of really slowed down the grass fires, but we've had a couple."
Call volumes in 2020 so far include 26 in January, February saw 23 calls for duty, March (12), April (17) and May (19).
Meyer is glad the fire departments have not had more calls, but the firefighters are there as an essential service to protect lives and properties of the county.
"No one ever wishes for an incident to happen or stay busier," he said.
"I'd like to see numbers down and that's due to fact we're always responding to someone's emergency. We're pretty much on par from past years and historical data for call volume."
There have been many changes within the fire departments since the world health crisis started.
Things such as practices were cancelled due to large group gatherings and Meyer has been talking to other municipalities on how to get members back into training.
"We're writing an SOG (standard operating guidelines) to get them back going," he said.
The SOG will involve how the members disinfect the equipment and making the proper PPE selection.
Members are currently cleaning the apparatus when they return from a call and making sure everything is sanitary.
As for calls, Meyer preaches caution to the members when there is more than two in a truck.
"You've got to put on a mask, more PPE (personal protective equipment)," he said.
"It's been an education for a lot of the members to understand what needs to be done during this. We provide them with as much information and PPE as possible and so far so good."
Two members go to a medical call and more people are needed at fires and they have to follow the two-metre social distancing rule and not sharing masks.
"All the members have been healthy, things have been good," said Meyer.
He says the biggest challenge right now is communication with members, citing the social distancing , not gathering and not having as much interaction with internal staffs because of their rotations as the reasons.
Alberta Health Services and the Alberta Fire Chiefs Association provided each municipality with information on what types of calls fire departments would like to attend to during this pandemic.
"We put it as we would still respond to choking, cardiac arrest. The Deltas (other than or respiratory arrest) and the Echos (airway, breathing or circulation symptoms)," he said.
"If AHS thought it was a respiratory illness, maybe COVID-19 related, they did not request for mutual aid (and) medical first responders to attend just due to the severity."
As of June 1, the county's fine fuel moisture content is very high and spread index is moderate.
"It's fairly normal for now and that'll change if we get some precipitation," said Meyer.
"But if we don't get anything, we'll see that number gradually start to rise and move into extreme."
All the county fire departments are still closed to foot traffic.