Eagle Butte student acts in hockey show
Posted on June 17, 2020 by 40 Mile Commentator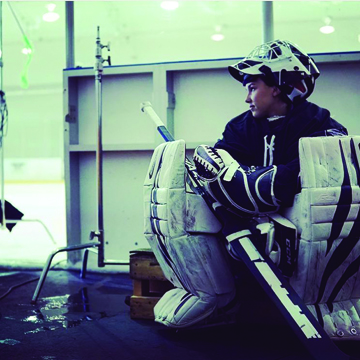 Photo by Luke Lee-Knight Kinlee Fahselt will be a character in the t.v. show, The Pond, which is debuting on June 29.
By Justin Seward
Commentator/Courier
Local-area hockey goalie Kinlee Fahselt will get the to see the final product of The Pond, a T.V. show she is in on in early July.
It was back in August 2018, that Fahselt spent some time in Calgary shooting the show that showcases teenagers playing elite-level hockey.
"My dad has a friend who is a part of one of the acting places in Redcliff and she sent this posting that needed a female hockey player and I thought it was cool. I decided to go and try to audition for the part in Calgary," said Fahselt.
"I went kind of not thinking of it and then I ended up getting the part. It was a week long showing."
Her role is the first female hockey player on the team.
"My character is a sassy girl who doesn't put up with any of the boys' crap," she said.
"She sticks up for herself and (is) strong."
The part best suited her because of her previous acting experiences with the Medicine Hat Musical Theatre (Oliver Twist) and at Eagle Butte High School (Tarzan) and playing hockey.
"I used to play on a boys' teams for eight years and when I read the description of the part, it resonated with me because I've been through similar experiences as a female hockey player," said Fahselt.
Playing the part reminded her about herself too.
"I wanted to be a part of it because I wanted to have females and younger kids look up to me and be like 'OK, she's doing that. It's OK if I do to," she said.
"I took my own experiences and kind of translated into how I wanted to act I guess."
The film was supposed to be aired on June 6, but creator Matt Carson postponed the release date to June 29 because of the Black Lives Matter riots.
The Pond can be viewed at pondtv.com or on YouTube.
When asked about keeping both passions alive after high school, her response was " I hope for both."
"I want to be a hockey player for post secondary. But I also want the show to take off."
She has been playing goalie for six years and played for the Sherwood Park Fury U18AA team this past season where she compiled a 5-5-2-0 record in the 2019-2020 regular season. Playoffs were shut down due to the COVID-19 pandemic.