Stretch Fitness excited to open the doors again
Posted on June 17, 2020 by 40 Mile Commentator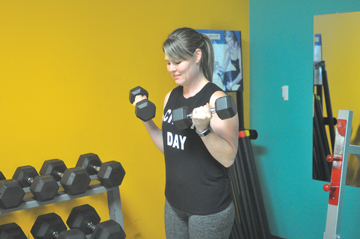 Commentator/Courier File Photo Stretch Fitness' Lisa Neustaeter anxiously awaits for gym goers to come through the doors as the fitness centre reopens June 16. The gym will be forced to close again for four weeks on Dec.13.
By Justin Seward
Commentator/Courier
Bow Island fitness enthusiast will happy to hear that their local gym will be open again on June 16.
While the Stretch Fitness Centre is excited to see people working out again, the initial announcement last week of fitness centres being included in Stage 2 of Alberta's relaunch as early as Friday came as a shock to its owners.
Stage 2 was moved up to June 12 from the 19th, while gyms were moved up a stage.
"It really shocked me," said Lisa Neustaeter, who co-owns the gym with husband Jake.
"I was not expecting it. We were kind of leaning towards July, if that. But to see that on the list for Stage 2, it was exciting."
The Neustaeters will be making sure everyone will be wiping down the machines, while there will be extra wipe downs by her at the end of the day.
"We had already enforced that before we closed," she said.
"I have it on our blackboard and I have notes posted everywhere. Basically kind of what we did before is making sure people wipe down where they touch."
Cardio equipment will have to be two metres apart and if the option is not possible then to shut down every other machine.
"In our case , we have to do that because we don't have the space to space them out," she said.
"We're already at max capacity. So what we'll have to do is shut down every other machine, which will work because they're never all in use at the same time anyway. We have three-cardio equipment and then two of each. It will work out perfectly so we can have one bike, one elliptical and one treadmill at least opened."
The weight bench requirement is two-metres apart, which is already in place in the facility with more distance.
People will be encouraged to work out at their own risk with social distancing, she added.
There will be no limit with how many gym members are in the facility at one time.
"In the evenings on a good day, if there are 10 or 12 at one time, that's rare because everyone filters out throughout the day," she said.
COVID-19's impact has been felt at the gym since temporary lockdown began in March.
"It was huge because we're a business that it carries itself well, but it's not like it's a lot of profit or to prepare for things like this," she said.
"So financially, it was very hard. But because of the government help and our bank, we were able to make things work. It was hard because we had to completely shut down and within 15 minutes notice."
She says lockdown felt horrible because members were in fear over the gym closing more than the owners.
"Every member that came in is like 'Please tell me you don't have to close,'" she recalled.
"I'm like 'We haven't heard anything.' I know that they did mention gym shutdowns before we did. But if I looked the capacity, we were never even close to the limit, which were 50 at the time. We are so small. We still were able to follow all the guidelines and we just waited until we got a call from the town asking us to close."
She admits she liked the down time.
"Don't get me wrong, I really enjoyed being at home. It worked out perfectly because I don't know how I would have managed the home schooling if we had been able to stay open the whole time," he said.
There is a sense of excitement to see people better themselves again.
"There's some mixed emotions," she said.
"I'm excited but also kind of anxious because we would be able to open tomorrow (June 12) but also because of the short notice and us not expecting it until Stage 3, we weren't prepared physically or mentally."
There are 72 members with the expectation of an increase when the doors open.
Hours will be the same as pre-COVID-19.