Legion makes best of tough situation during pandemic
Posted on June 30, 2020 by 40 Mile Commentator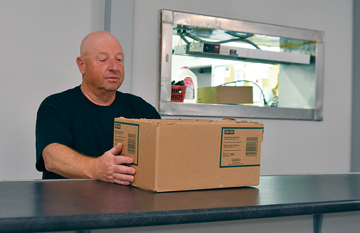 NEWS PHOTO MO CRANKER Redcliff Legion president Stephen Marshall grabs a box at the Legion's building earlier this month. Marshall and a number of other volunteers have been giving the Legion a facelift while they have been forced to shut.
By Mo Cranker
Commentator/Courier
The Redcliff Legion is making the best of the forced closure during the COVID-19 pandemic.
The nearly 100-year-old institution made a call out to volunteers this month to help get new paint, floors, ceiling panels and other renovations set up at the Legion in preparation of a July 9 opening day.
"It's sad that we weren't open for business but we decided to make the best of the situation we were handed," said president Stephen Marshall. "We're doing our best to update the building and to get with the times a bit, while still keeping everything that makes the Legion special."
A number of rooms have been given new, brighter lighting. The dining room has been given a complete face lift and tables are spaced out to keep people safe. A new meeting room is being set up for different groups to use.
The renovations have been made possible by the New Horizons Grant for Seniors and strong community support.
"The grant made a lot of what we're doing possible," she said. "We also have to say thank-you to the volunteers.
"Every time we use Facebook to ask for help, people are out here asking what they can do."
Marshall says town interest about the Legion is high right now and that he is excited to get people back in the doors.
"We've heard from a lot of people who are saying they want to come back," he said. "We're going to be opening for Thursday, Friday and Saturday at the beginning.
"Thursday is usually our steak night. Friday is our Fish night and Saturday we have our meat draws."
As time goes by, the Legion will restart more of its programming like pool nights and large cribbage tournaments. Marshall says the building would make for a great, affordable place to hold a wedding.
Marshall says the changes were needed to keep the Legion alive for years to come.
"I think it would have been a struggle if we just kept everything the same," he said. "We don't want to feel like this place never changes – they're going to walk in and see all of the new things we've added during this break."
Marshall says he is thankful for all of the support over the years.
"The community has always been there," he said. "When we're open again, we're hoping to see a lot of new and old faces. "The easiest way to support us is to come grab a meal when you can."
He added that people do not have to be a member of the Legion to eat there.
More information can be found on the Royal Canadian Legion Branch #6 Redcliff on Facebook.