Dunmore intersection construction to commence within weeks
Posted on July 30, 2020 by 40 Mile Commentator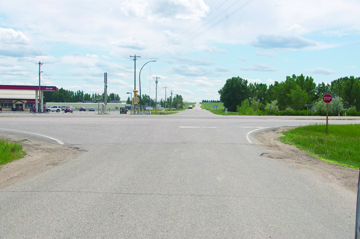 Commentator/Courier File Photo FINALLY STARTING: The Highway 1, Charles Street and Eagle Butte Road intersection is expected to start at the beginning of September.
By Justin Seward
Commentator/Courier
Cypress County's Director of Public Works, Kim Dalton, gave an update to council on July 21 on the Dunmore intersection project.
In the agenda package item, Dalton said "the county has been communicating with Alberta Transportation, who has provided a draft Memorandum of Agreement between Alberta Transportation and Cypress County to install the traffic signals and for other works at this intersection."
The MOA will see a 50 per cent maximum contribution of $700,000 from Alberta Transportation, an increase of the initial $300,000 from the original $400,000 commitment.
The county will contribute the remaining funds.
"The Dunmore lights, it's in cooperation with Alberta Transportation," said Dalton.
"The stuff that's not in the RFD (request for decision), (and) was in previous information briefs was that we're working with AT and they are doing additional LED lighting on the Trans-Canada Highway, through Redcliff and part of Medicine Hat and Dunmore, part of this project. That's in the same tender."
The upgrade to LED lighting is the addition to the project and change the scope on AT's contribution.
There were two bidders that came in on the project and Aecon Transportation was awarded the project at a cost of $1,425,392.85.
Dalton says the surveying and procurement are being done right now.
The project was expected to start within July.
"We anticipate of having (the project) done by September," said Dalton.
It was last November, the county voted to partner with AT on the Eagle Butte Road, Highway and Charles Street intersection.
"When you have a series of accidents that happen at that intersection and it's a direct route to the high school, that's always a safety concern," said Dalton.
It was at that November meeting that council also opted to go with Option 2, which includes
traffic signal and illumination, southwest radius improvement, southeast widening and radius improvements, northeast radius improvements and northwest radius improvements , a widen median opening and westbound lane widening.
There will also be a pedestrian crosswalk also installed on the Eagle Butte Road.
The initial funding scope came in at $1.2 million before the recent change in scope.