Redcliff's skateboard park to break ground in August
Posted on July 30, 2020 by 40 Mile Commentator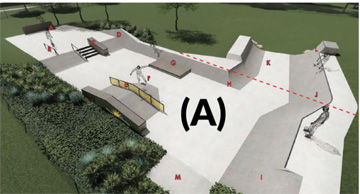 Photo submitted by the Town of Redcliff A conceptual sketch of Redcliff's new skateboard park.
By Justin Seward
Commentator/Courier
Redcliff skateboarders will be happy to hear that the town's new skateboard park will start construction later in August.
"We have a start date of Aug. 17 and it's going to take five to six weeks to complete at the most," said Derrin Thibault, the town's director of community and protective services.
The project gets underway in August after a year of planning with an open house and three subcommittee meetings to figure out a design that best the suits the location next to the Rec-Tangle Arena and the Aquatic Centre.
"The subcommittee had looked at a lot of concept drawings," said Thibault.
"They came up with a streetscape style and also a bowl-shape style."
A streetscape skate park has a flat surface with different features on the design.
"They would be flat features you hop on and slide down like rails and jumps," he said.
The bowl-shaped is a 6-foot deep, three-leaf shamrock design that skateboarders can go up and down in.
"(We are) pretty excited," said Thibault, on the new skateboard park.
"(We are) happy to offer something so that folks don't have to drive all the way to Medicine Hat, and also something new for the folks in Medicine Hat to come here and try out. We had a pretty good response from the skater community. It kind of boosts our recreation hub."
Skateboarders will be able to use the park this year, he confirmed.
The skateboard park project has a community-related initiative for locals as if you donate between $200-$500 towards the skateboard park, your family or business name will be engraved on a stainless steel plaque that will be displayed on the feature wall.
If donations are received prior to Sept. 4, your name will be on the main donation sign for opening day celebrations.
"We actually have a donations page out there and plaques are one of the options," he said.
"We're trying to do a little promotional campaign, sort of at the lower end of the scale."
The project initially was slated to start in early September, but was moved up two weeks as New Line Skate parks had cancelled projects in Canada and the United States.