Redcliff Library's Bike Lending Program resumes for 2020
Posted on August 26, 2020 by 40 Mile Commentator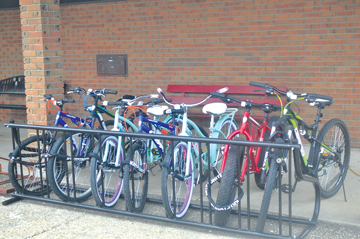 Commentator/Courier Photo by Justin Seward WANT TO GO FOR A RIDE?: The Redcliff Public Library Bike Lending Program started back up earlier this month.
By Justin Seward
Commentator/Courier
Library card holders can now sign out bikes again through the Redcliff Public Library Bike Lending Program.
The program started in August 2019 and allows library patrons to borrow a bike for a day by using their library card.
Bikes didn't start being lent out this year until Aug. 1, because of the delays that COVID-19 brought on.
"We were going to bring it out in the spring and then COVID-19 happened," said Tracy Laturnus, Redcliff library manager.
"Now we've started up again on Aug. 1 and we've had a lot of inquiries. People asking how the program works and all they need is an Alberta Library card and a piece of photo identification and they need to be 18 years of age or older. Unless, if the children want to borrow the bikes, the parents have to come in with them and sign all the waivers and release forms."
The library was a little uneasy about sanitization and how things were going to run, she said.
The bikes are wiped down once a day and Lysol wipes are supplied for the users to wipe down the bike before and after use.
"However, larger centers, which have rental equipment like this, their programs were going ahead this year. So we thought we'd open our up as well," said Laturnus.
"They can take (the bicycles) anywhere in Redcliff," she said.
"There's the water park, the trails. You can use it to go back and forth to the city if you needed to. Anything you want.
"Here is an opportunity where families don't have to put the money out, and if the kids already have their own bikes, the parents can come and borrow one and go for a family bike ride. It gets people out. It's good for the mental health."
The bicycles are a one-day rental and has to be returned by the time the library closes.
Two all-season bikes were the two newest purchases recently.
A $4,000 grant was obtained through the Community Foundations of Southeastern Alberta last year in conjunction with the Town of Redcliff and bought the library eight bikes, bike rack and helmets.