Elected officials tout need for Suffield, but not much else to do
Posted on September 2, 2020 by 40 Mile Commentator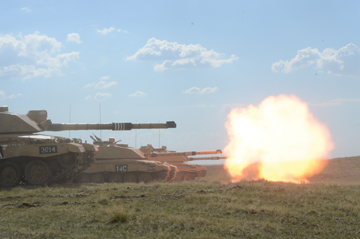 Commentator/Courier File Photo
By Collin Gallant
Alta. Newspaper Group
Rumours about the potential closure of British Army training at CFB Suffield are a seemingly constant source of concern, area politicians said Thursday after the ALTA. Newspaper Group reported the British military is reviewing its tank fleet.
However, they stressed, any threat to operations at the base near Medicine Hat is a concern for good reason.
Medicine Hat Mayor Ted Clugston said the base and British Army Training Unit located there has been a "major economic stabilizing force since the 1970s."
"We talk a lot about oil and gas and (petrochemicals), and sometimes the base gets over looked," he said.
"(Closing it) would be a massive blow."
The British Army has trained almost every years at the 2,700 square-kilometre base between Medicine Hat and Brooks since 1972, bringing thousands of troops in battle groups to the region for exercises.
This week, British newspaper The Times revealed that a strategic review of military aimed as containing costs and strategizing for the future of warfare, may suggest traditional heavy tanks are obsolete.
Money might be better spent on cyber-security, unmanned aircraft and others areas, rather than upgrading armoured vehicles to last another 15 years.
Included in that option would be a shutdown of training at CFB Suffield, the media report states.
MP Glen Motz told the News on Thursday that the issue of BATUS operations has been brought up "many times" over the years, and again he's heard rumblings.
He wouldn't comment on the U.K. government process, but said CFB Suffield is a unique environment that allows large-scale exercises and it should be more fully utilized.
"We've heard this over the years," said Motz by telephone from Ottawa.
"If the British decide to change how they use the base, there could be a new arrangement and not an end to the partnership."
Unmanned aircraft and drone testing have been increasingly promoted over the years, and the base that also hosts other NATO countries for chemical warfare training also includes a Defence Research and Development Canada facility and range.
Cypress-Medicine Hat MLA Drew Barnes told the News that the province's part should be to ensure low costs and ease of access for British operations.
"The Government of Alberta needs to encourage the Canadian Government to themselves use the base as much as possible, and to reach out to NATO partners," he wrote in response.
Clugston is not sure what effect lobbying the United Kingdom would have.
He recalled how the day he was sworn in as mayor in 2013 was the same day BATUS announced a host of new investments at the base after a review of potentially moving tank training to Germany.
"At the time we were promoting Medicine Hat as a great place and Canada as a friendly ally," said Clugston. "But, we're not experts in warfare. I don't know anything about tanks. I don't think there would be anyway that we could influence the British government on this."
However, like Barnes and Motz, Clugston said CFB is unique in size and access, and an asset for economic activity in the region.
"They've made a huge investment there," he said. "I'm not sure if they would want to walk away all at once. And if they don't want it for tanks, maybe it will be something else."
U.K. military and government officials are now determining the costs involved of upgrading its main fleet battle tank, the Challenger 2, to maintain into the next decade, as well as the Warrior, a light-armoured vehicle.
However, broader review to determine how the forces can best position themselves for rapidly modernizing warfare is being conducted in an "integrated review" that will be presented to civilian government in November.