Suffield Solar facility comes online
Posted on September 16, 2020 by 40 Mile Commentator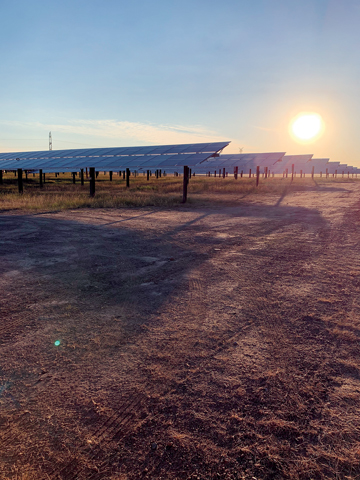 SOLAR FARM SOLD::The Suffield Solar facility has been sold to BluEarth.
By Justin Seward
Commentator/Courier
The 23-megawatt Suffield Solar facility is now operating and online as of Sept. 9.
It was on Wednesday that a fraction of the project came online because Borea Construction commissioned piece-by-piece by going through the facility to make sure it was working well, says Ryan Tourigny, director of business development for Canadian Solar.
"So by the middle of next week, we'll be up to half of the plant's ability – it's total ability is 23 megawatts," he said.
The project began in 2019 and last winter took a break over to get better weather.
"We've been building continuously since the bad winter weather subsided," said Tourigny.
"It's the first time in Canada that we've used Canadian Solar's high efficiency BiKu modules. They're bi-facial, meaning they have solar cells on both the front and back. Our expectation is that in the snowy Alberta winter, we'll generate a considerable amount of energy from the reflection off the snow to the back of the modules."
The Suffield project is the first of many scheduled to follow.
"It's Canadian Solar's first of several in the region in Alberta and we're very excited to showcase Canadian Solar's technology and really just showing the solar resource in the region, known to be some of the best in the nation," said Tourigny.
Canadian Solar was able to use the experience of constructing in Alberta and with the bi-facial and single access tracker technology to win a procurement with Alberta Infrastructure to build three additional projects.
"We're excited that what we've learned on the Suffield project can be applied to the remaining projects that are planned to supply a little more than half of the electrical consumption of the Government of Alberta," he said.
Jenner, Tilley and Hays are the other Canadian Solar projects.