Bow Island hosting a Fall Decorating contest
Posted on September 23, 2020 by 40 Mile Commentator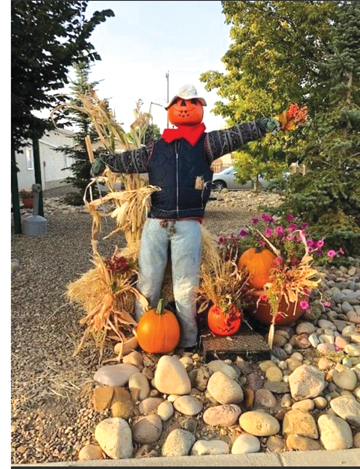 Town of Bow Island Facebook photo Town of Bow Island representatives started the Fall Decorating contest last week. The town is encouraging residents to do the same outside their homes until Oct. 8.
By Justin Seward
Commentator/Courier
The Town of Bow Island is trying to warm up people and businesses in to the autumn season by asking them to partake in the Fall Decorating contest.
The town's tourism board's goal is to get people in the community spirit and lighten the mood because of COVID-19.
"We're just trying to put a smile on people's faces because they don't get to leave or do much," said Tina Mcilmoyl, Town of Bow Island facilities coordinator.
The contest is for any business or any home.
"There is really no criteria, they can decorate as they want to," she said.
"It has to be outside because we're judging at night."
Interested decorators just have to let Mcilmoyl know either by calling (403)545-2522 or tina@bowisland.com to enter the contest.
There will be prizes awarded for first, second and third place displays.
Decorating can be done until Oct. 8.
Judging criteria are still being worked out.