PRSD sees things as 'quite good' through the first month of classes
Posted on October 7, 2020 by 40 Mile Commentator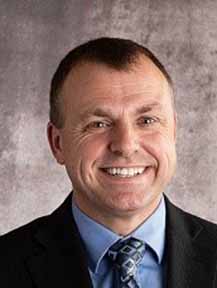 Commentator Courier File Photo Roger Clarke, PRSD superintendent,
By Justin Seward
Commentator/Courier
Students have been in classes for a little over a month and for Prairie Rose School Division, the new school year has been "quite good with respect to getting kids back to school," said superintendent Roger Clarke.
"They're happy from what I can gather (from) talking to my principals," said Clarke.
"People are relieved to be back to school and so are staff. I was anticipating that there would be more anxiety, but there hasn't. People are coming to grips with the new strategy to stay safe during COVID-19-such as masking and sanitization."
Students have taken the strategy in stride, added Clarke.
"It's been nice to see the (kids)get back to school and get back to near normal,"he said.
"You see lots of different things happening in school in terms of spirit days and Terry Fox Runs and all those sorts of things that are still happening."
An ongoing challenge that PRSD has been dealing with since the start of the year is the notion of ongoing sickness.
Prior to COVID-19, if a student or staff member had illnesses such as a head cold, they might be out a day or even be at school.
Now if those symptoms are shown, there will be a longer period at home.
"Now with the COVID-19 requirements, that anyone unwell needs to be at home and then you have core symptoms (i.e. runny nose) and non-core symptoms," said Clarke.
"You're out for 10 days unless you go get a COVID test and the COVID test comes back negative and then your symptoms are gone. Students are missing time because of that and they have to. That's one of the requirements with respect to the expectation around COVID. Missing time is also starting to be seen with our staff as well."
While PRSD is doing OK right now, Clarke emphasized that the school district may have difficulties staffing schools.
"That's an anticipated problem, but we haven't run into it yet," he said.
"We're preparing for it."
PRSD has not been able to land as many substitute bus drivers, as they would have liked during the pandemic.
"There are people making decisions on substitute lists to say 'you know I'm not that terribly comfortable substituting until we get further along in this pandemic," said Clarke.
"So substitutes are getting smaller and sometimes it makes it difficult. So we've even had some bus routes this year that couldn't run. Not because of mechanical or bad weather or anything like that-it's just because of no driver."
Clarke has no doubt when cold and flu season comes, there will be more absentees.