Hamilton chosen as county reeve for third straight year
Posted on October 28, 2020 by 40 Mile Commentator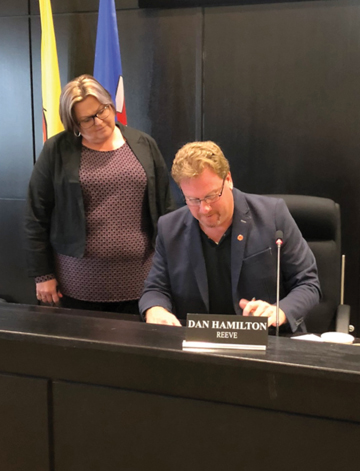 Photo Courtesy by Cypress County SIGNED ON FOR ANOTHER YEAR: Cypress County Reeve Dan Hamilton signs the dotted line to become the reeve for another year while CAO Tarolyn Aaserud looks on.
By Justin Seward
Commentator/Courier
Cypress County council held its annual organizational meeting on Oct. 20 and chose Dan Hamilton as the reeve for a third straight term.
"It's great that these guys have the confidence in me to get through the next year," said Hamilton, who serves as the Ward 5 councillor for Dunmore/Veinerville.
"I know we've got trying times coming up. It's all a team in there-it's everybody working together. It's pretty easy when it's a team spirit."
In the last three years he has noticed that the county has become a little more open talking to people.
"They really recognize Cypress County is on the map," said Hamilton.
"It's just the confidence going forward when you have a good team behind you and everybody is supporting you. You're not scared to get out there and talk to other people."
Hamilton's focus started at the beginning of the year by advocating for HALO and looking to get them the support they need to keep going.
It was most recently that Hamilton was paying close attention with the ongoing tax assessment review that would relieve the burden for struggling oil and gas companies.
In the worst case scenario Cypress County could lose $7.8 million in revenue.
"That has taken up a lot of time," he said.
"But as a group we've been able to be successful on that. It was announced a couple days ago (Oct. 19) that everything they (the UCP government) were going to do is now stopped and put on hold until they can review everything and look at it as a group put together."
With a municipal election set to take place next October, this could be Hamilton's last term on council.
"I'd just like to see Cypress County get stable on everything," he said.
"So if I'm not re-elected, then whoever comes in doesn't have to deal with all this with not having the knowledge of what's going on."
Hamilton has liked the challenge of being on county council and meeting the people.
"(There is) a good group of people there trying to move Cypress County forward for the future," he said.
Richard Oster was voted in as deputy reeve.