Forettes' volleyball grateful for cohort games
Posted on November 3, 2020 by 40 Mile Commentator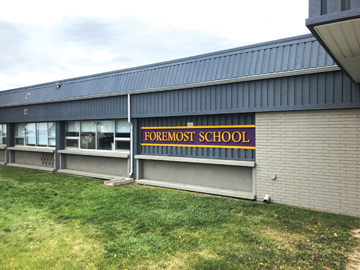 By Justin Seward
Commentator/Courier
Since the beginning of October, the Foremost School Forettes senior girls volleyball team has been competing in cohort group games with Senator Gershaw and Coaldale Christian.Team co-captain Lina Britschgi says the games have gone surprisingly well.
"It's a little different because we can't play against too many other teams. We're just playing within two other teams. We've created a little league between us three,"she said.
The games have become a little more difficult because the schools are not allowing fans.
It's hard for everyone to get momentum-like get excited- because a lot of times, the crowd drives the team,"said Britschgi.
"It's quieter in the gym. It's not the same is what it used to be. It sucks for the parents because me and one other are graduating this year and our parents can't come and watch us play."
The team has made the adjustment of talking more to keep the motivation up.
"You have to be willing to put yourself out there a lot more, be louder and get everyone involved in it," said Britschgi.
The purple and yellow were just excited to play this year despite the setbacks.
"I know for me personally, if I wouldn't have got to play, I would have been pretty upset about it. I know a lot of other girls were happy at least we get to play. We would rather keep it smaller so we could keep playing," she said.
The team is comprised of mostly Grade 10s with two Grade 12s and two Grade 11s.
"I think for the Grade 10s, they were a little nervous coming up," she said.
"I think for them, it's just encouraging them the most and helping them along if they have questions."
The girls had two games this week and their will be league playoffs between the three teams.