Joy of Giving accepting monetary donation only this year
Posted on November 17, 2020 by 40 Mile Commentator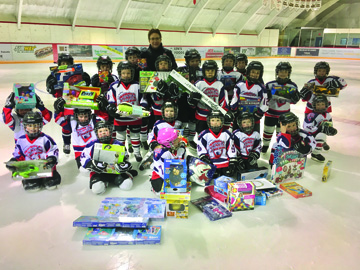 Commentator/Courier File Photo Bow Island Minor Hockey helped with the Joy of Giving last season.
By Justin Seward
Commentator/Courier
The annual Joy of Giving have taken a different approach to helping out families in need this year.
"We want to try and keep everybody as safe as we can and still provide the service of making Christmas a little bit more cheery for people that may not have the resources this year," said Alta Magee, Joy of Giving committee chair.
"What we decided we would do is instead of accepting donations of food and gifts, we would just accept monetary donations. That can either be cash, cheque or electronic transfer."
The board will then use the donations to buy Chamber Bucks to disperse to the families.
"People can utilize the donations within the community and make someone's Christmas a little bit brighter," said Magee.
The amount of Chamber Bucks dispersed will depend on the amount of donations and nominations that are received.
"COVID has disrupted everybody's life," she said.
"AHS and Alberta Health have recommended social distancing. We rely heavily with Joy of Giving (to) accept donations, we rely heavily on volunteers to help us with collection and sorting. That makes it pretty difficult to do social distancing when we have that many volunteers going through at the same time. We decided for everybody's safety that we needed to do it at a distance this year."
Donations can be dropped off at Bow Island Apple Drugs, Western Tractor, Ace Hardware, the library and the Rolling Pin to name a few of the businesses with a donation box, an etransfer can emailed to bi.burdettjoyofgiving@ gmail.com and an envelope can dropped off at the post office addressed to the Joy of Giving.
Family nominations are due by Dec. 1 and can be sent to the above email or by texting or calling Magee at (403)832-2261.