40 Mile Regional FCSS, PRSD promote annual Bullying Awareness Week
Posted on November 24, 2020 by 40 Mile Commentator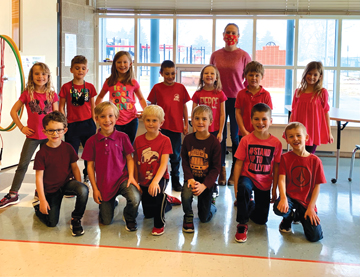 Photos submitted by Scott Angle Bow Island Elementary's Grade 1 class supported Bully Awareness Week on on. Nov. 18.
By Justin Seward
Commentator/Courier
The 40 Mile Regional FCSS initiated its annual Stand Up! Be Kind initiative to educate local schools and businesses on bully prevention last week as a part of the province-wide Bullying Awareness Week.
"We really look at it as a way of a community demonstrating kindness and taking a stand," said Corinna Roth-Beacome, 40 Mile Regional FCSS executive director.
"When you do see something going that you know is not right, when you see someone treating someone else poorly- or making them feel less than themselves or being unkind- that we would take a stand and demonstrate kindness towards one another. If we all continued along those lines, we could really make a big difference, and make people feel supported and everyone feels valued."
The FCSS (Family and Community Support Services)employees usually dress up in pink every year and take their pink box to businesses and agencies in the County of Forty Mile.
Local area businesses are usually dressed in pink and prepare for the arrival of their pink donuts as well as pose for photo opportunities.
However, COVID had changed the criteria last week.
" This year in recognizing the enhanced measures for our area and trying to be good citizens, we did not do donuts for the businesses or the public," she said.
"Instead we opted to give out pink pens with the Stand Up! Be Kind slogan on them. We delivered those to businesses to either share amongst their staff or to give out to patrons as they're coming in. And just know really talking about what it means to be kind in a workplace setting because we know that bullying and harassment also happen in the adult world-it's not just about kids."
COVID has posed some limitations on the awareness aspect as well.
"We aren't able to get into the schools like we used to do presentations and do awareness and education opportunities," she said.
"The schools are more than willing if we have a presentation now that we video. They're willing to show it on the TV screen to the kids."
Roth-Beacome says FCSS was made aware from parents and schools of cyberbullying issues happening within the schools and community.
"We did try to discuss some of that last year in our presentations to the students and with the kids and what resources are available," she said.
"And our partnership with the RCMP, the Women's Shelter, SARC (Sexual Assault Response Committee) and different agencies that helps kids know that there are supports out there."
FCSS provides funding to the Family School Liaison Worker program in the area.
"Those workers also work a lot on friendships and the importance of being kind in the school settings," said Roth-Beacome.
"We have definitely seen more of awareness where kids are willing to come forward, are willing to show their parents when other students or other people have sent them something that they feel isn't right. We're able to address that and open up communication with the kids. I think we've seen some inroads that way where they're recognizing that I can take a stand and I can make a difference.
Prairie Rose School Division schools participated throughout the week.
Senator Gershaw School wore pink on Nov. 18 and staff has educated the students on the difference between rude, mean and bullying.
"We consistently work on student character education to promote student citizenship and positive interaction," said Scott Angle, Senator Gershaw principal.
"It is important to remind students at this time of year key points on conflict resolution. We always promote all members of our school community to focus on the positive, find the good in people, and (showing)kindness to all people of our school and in our community is paramount to a successful lifestyle. Cyberbullying and social media awareness is an ongoing focus with all our youth and parents in managing child/youth use of online programs and using social media/online formats appropriately."
Corey Steeves, Foremost School principal, said "We need to encourage students to care for one another and inherently desire to be kind. Schools must be a safe place for students."
Pink icing cookies were also delivered to school staffs to then be handed out to students along with a pens that changes from purple to pink.
"The purple signifies the prevention of family violence-which is what this month is about as well. We're also promoting that," Roth-Beacome said.
In support of Family Violence Prevention month, the FCSS asked any local businesses, families and community members to wear purple one day this month and collect items for the women's shelters.
"You can wear purple one day as a staff. Be creative, be fun," she said.
"We're collecting donations for the women's shelters because we know that unfortunately domestic violence seems to be on an increase and shelters are certainly pushed to their maximum. And any donations that we can garner help support our community as they access those services as well."
The FCSS is asking businesses to take a picture and send it in.
The business can call the Community Resource Centres in either Bow Island or Foremost to arrange for item pick up.