Fortis to decorate tree at Pleasant View Lodge
Posted on November 24, 2020 by 40 Mile Commentator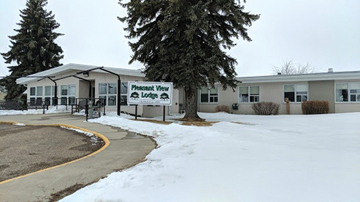 By Justin Seward
Commentator/Courier
Bow Island's Pleasant View Lodge seniors residents will be provided some early Christmas cheer on Friday thanks to Fortis Inc. Utilities Company.
Fortis is bringing its inaugural Lights of Joy initiative to various communities within their service territory this holiday season and Bow Island's Pleasant View Lodge was chosen as one of those recipients.
"I selected the Pleasant View Lodge," said Kurtis Roy, Fortis area foreman for Bow Island.
"What we're going to do is bring them a little Christmas cheer and sunshine for the holiday. Part of the project is we're going to decorate the great big tree out front. And (as) part of the celebration, they're going to be able to do a celebration inside- providing them with hot chocolate cookies and pastries."
Fortis will have some cash left over and those funds will be handed over to the Lodge for their Christmas stocking project.
"I wanted something in my service territory," said Roy on why he chose the Lodge.
"Bow Island is kind of our biggest town. They had the Lodge so I selected the Lodge"
Roy says Fortis is doing the initiative because of COVID.
"We know a lot of these people are kind of trapped," he said.
"Everybody is in the same boat. A lot of the seniors are restricting their visitors and because of COVID there's a lot of lockdowns. We just decided we wanted to cheer things up for Christmas and we decided we'd do something nice for our seniors."
Roy says the company bought 15 to 16 large strings of lights for the tree.
"I think they were 65-feet long each," he said.
Excitement was felt at Lodge of the news.
"It's always nice when they're thought of," said Karen Waldbauer, the Lodge's chief administrative officer.
"They(the seniors) always appreciate when different people think of them."
Waldbauer will have some of the residents watching the lights by her office and the hope is to have some seniors go outside if the weather is nice.
"If it's not cold, lots of them can go outside, (where there are) benches and we'll put out chairs," she said.
"It'll just depend on the weather. But for sure for some of them we'll have them in my office where they can look right out the window and see the lights. They can enjoy them for a long time, they can enjoy them for a whole month."
A Fortis crew will be at the Pleasant View Lodge to decorate the tree and do the light up on Nov. 27.