Cypress County Library Board putting a plan together to replace current Irvine Library
Posted on December 8, 2020 by 40 Mile Commentator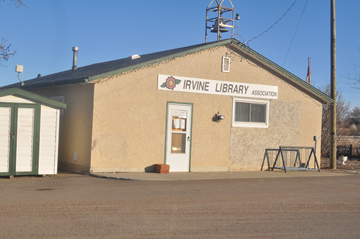 By Justin Seward
Commentator/Courier
The Cypress County Library Board was approved for the first step in the process of landing a new facility for the Irvine Community Library on Dec. 1.
Cypress County coucil passed a motion brought forward by the Library Board to get the authorization to hire an architect to provide a conceptual design in for a new library -or repairs to the current library- in Irvine at a cost of $10,000.
"With COVID being a big part of our lives right now, it's important to have a space for families- especially the kids to go to- and be able to access books, games, to have some social interactions," said Richard Oster, Library Board member from Cypress County council.
"You need a building, you need a space that is friendly (and) comfortable to them- a place they want to go to- and when you have an old building like we have right now, it just doesn't do the job anymore."
The current library is operating out of a building that is the size of a double car garage and is estimated to be 100–years-old.
"It's just something that is so outdated. It doesn't serve the community the way it should," said Oster.
Oster says the board first talked about a new library five years ago.
"Then last year when the county councillors were doing their road tour, we stopped in down there for everybody that had never seen it before," said Oster,
" And there (were) some councillors that had never been to Irvine and seen what the community was using for a library. That stirred up more interest, that yes we should start thinking about and putting a plan together to replace this library- to build something and have something that people can be proud of."
The current library only has one washroom and no wheelchair access, something Oster says doesn't work anymore.
"It's time to step up and build something that serves the community," he said.
Oster along with fellow county Coun. Darcy Geigle and the five other Library Board members will sit down to provide input on the proposed new library and will meet with the architects.
"The architects have previous experience with designing libraries," said Oster.
"They'll be coming forward with some ideas and of course they have the codes they are going to bring with them that have to be met as far as the size of the handicap bathroom and the spaces."
Oster anticipates the architect will need a month or less, depending on how much consulting the board has to do and have a conceptual design to show council by February.
Costs will also come forward to council at that time too.
Oster says the board is talking to a couple people about proposed sites.
"I think it's needed very badly," said Joan Côté, library manager.
"I'm at the point now if I want to put new book on the shelf, I have to take books off the shelf because I have no space to put them. I have not got enough room here to be able to do the kind of activities I would like to do with adults or kids. Even my storage is not good enough for the books in the back room that are seasonal books. We really need space and we need space that's workable."
She fought hard to keep a new library concept in the area because she thinks it's important still to have South Railway Avenue active.
"The more you take away from this area, the more this area is going to die," said Côté.