Pump track concept presented to Cypress County council
Posted on December 8, 2020 by 40 Mile Commentator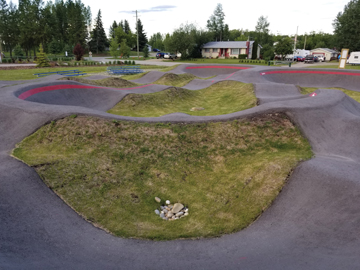 By Justin Seward
Commentator/Courier
Hilda resident Andy Kirschenman presented a pump track concept to Cypress County council through virtual means at their Dec. 1 meeting.
A pump track is a dirt, asphalt, wood or concrete track with banked corners and rounded obstacle rollers.
The track would have smaller features than a BMX track and is built in a shape of loop for riders to ride continuously on.
The pump tracks name is derived from the way riders propel their bikes over the bumps or 'rollers' by the shifts in their body weight rather than pedaling and by doing so by maintaining momentum throughout the track.
Locally, Kirschenman, who is also a member of 670 Mountain Bike Club, had built a dirt track in Hilda and is in the process of finishing one in Schuler.
"I heard second or third hand from some people in our community," he said about the concept.
"They had been camping at couple of different campgrounds in some areas that had some pump tracks built in those areas-campgrounds mostly- and they said this would really work well at Hilda. Initially what we did was we built one this spring, I think we did it in May at Hilda-just a dirt one- (and) quite small and saw how the community kids really liked it and stemming from there we thought 'why wouldn't other communities in the county be as served by a pump track,' as we did Hilda."
He says rather then the way they went about a pump track in Hilda, where they found a group of people that had kids and interested to do it, that county council would be approached and there could be more support and a permanent solution could be found.
"It's kind of in council's hands now," he said.
"But there's definitely some desire for it. I think for some recreational opportunities that are reasonably priced and for kids and even adults of all ages that can take part in it."
Kirschenman feels the Schuler and Hilda pump tracks was more of a concept to present to the county.
"It was still nice to show that it works and we have a ridership that is more than I thought we would get," he said.
"We got kids that really enjoy it and kids in town ride it everyday if the weather is nice."
Dunmore would be a very good option based on the kids in the community as well as the proximity to both the city and the highway, he said.
"There's lots of kids in Dunmore, it's close to the city,it'll have users come out of the city for it," he said.
"I know talking to some of my friends that are part of the BMX track in Medicine Hat, they're always looking for different options for training. They have an excellent track right up by the Family Leisure Centre- it's always good- some of these kids are running the provincial circuit. It's always good to have different places to practice that aren't always the same as their home track."
A pump track is not just for expert riders only.
"It's something that if you're an amateur rider-like a beginner rider- or someone that's a kid just on strider bike even, everything can still be experienced on the pump track. But as your skills get better, it becomes fun as you can start being able to carry some speed into some corners and start being able to jump out of those corners like that too."
BMX bikes, mountain bikes, skateboarders-depending on the surface- and scooters would be allowed on the track.
Kirschenman said, "I think it would be good to get some community engagements, just because like with everything, ownership of a project by the local community is very important for making it successful."
Cypress County deputy reeve Richard Oster and Reece Dan Hamilton had been back and forth with discussions about the project's concept last fall because a Dunmore ratepayer had approached the municipality about a track.
"She felt with all the kids in town, in Dunmore, and the fact that they weren't in school full time, something like this is needed for them to burn off some energy," said Oster.
"We looked at it and we talked about it a bit. I think 'What a great idea.' You have the initial cost in building it. In my personal opinion, I would take it one step farther and do the asphalt part of it and then you're done. Those kids can be there anytime they want."
Oster says there would not be a lot of costs incurred to the county after the initial construction.
"We don't have to heat it, there's not a building that needs maintenance," said Oster.
"I almost think almost all of the hamlets could use one of those because there's kids in every hamlet."
Council approved the project as an information item and will discuss at future meetings.