Senator Gershaw School prepared for the online transition
Posted on December 15, 2020 by 40 Mile Commentator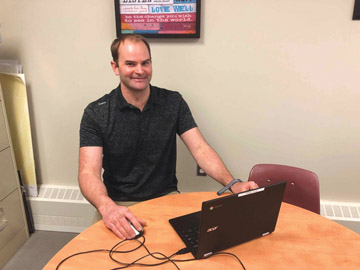 Submitted Photo Scott Angle, principal of Senator Gershaw and Bow Island Elementary schools.
By Justin Seward
Commentator/Courier
Senator Gershaw principal Scott Angle says the school was ready for the online learning environment for the Grades 7-12.
As a part of the provincial government announcement back on Nov. 24 to help reduce the spread in COVID-19 cases, Grades 7-12 would be working through at-home learning from Nov. 30 to Jan. 11-excluding the winter break that starts on Dec. 18.
"It's been a smooth transition," said Angle.
"It's as close to a classroom setting as we can have without being in a classroom. But is it ideal. I wouldn't say it's not as good as being in the classroom. We of course would rather be in the classroom. But as far as how we transitioned over, it was smooth. It was nice to have a few days to organize that as the decision to do that was on a Tuesday and we had until the following Monday."
Angle feels that December is a tough time as people are tired and to move to online is not ideal.
"But at the same time students have been doing very well," he said.
"They've been attending online very well and we've been moving forward with teaching as if we were in the classroom-even though we're not."
The preparation for the restrictions was well ahead of schedule as Prairie Rose School Division has implemented a one-to-one chrome books for the Grades 4-12 students.
"Having that made a big difference because we know everybody has the technology at home to be productive- assuming the Internet works," he said.
"Now we didn't have to worry about the technology as much as we had to worry about the Internet connection. The Internet connection rurally is a challenge in an online environment. We definitely had the tools for students to work from home and we did have the plan in place (for) working-from-home, if that was required coming from spring."
The students were reminded through a video from PRSD superintendent Roger Clarke as well as the school's staff about what they should expect in regards to expectations in this go around with their courses at home.
"I reiterated to teachers and again teachers reiterated to students the fact we need to be engaging online- even though it's more challenging- through moving forward with courses almost with the same amount of time and work as we would be if we were in person," said Angle.
"The big difference between last time this happened in spring and this time is the expectations are different. This is a short time frame hopefully of online environment and so with that the expectation is that we're going go ahead and keep finishing off these high school courses, and we're going to finish them off the way we need to finish them off, so they're prepared to go into the next course with the knowledge required."
Angle says there was going to be some effect to education the way Alberta was going.
"December is also one of the most exciting times of year around the school," he said.
"It's when most events are done and it's a real festive feeling around the school. It's not an easy time of year to be doing this because students and staff are missing out on that festive feel and it did get taken away from them in Grade 7-12. Especially our student council-our leaders of these events- and now they don't get to participate in them. It was disheartening for sure but at the same time it's one of those things, they are out of our control and we're just trying to make sure we're doing the best we can."
With the junior and senior high students, the school has scheduled a wellness break for them to go outside.
The school is also connecting with as many students as possible through Google meets learning support and the social emotional support.
Kindergarten to Grade 6 remain in classes until winter break and from Jan. 4-8 there will be online learning for those students before they go back Jan. 11.