Twist and Flip Gymnastics hoping for a targeted relaunch approach
Posted on January 19, 2021 by 40 Mile Commentator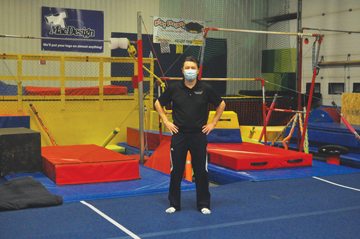 OUR VOICE NEEDS TO BE HEARD: Twist and Flip Gymnastics owner Randy McMullen is hoping the government will take a targeted relaunch approach with the local region being low in COVID case numbers.
By Justin Seward
Commentator/Courier
Redcliff's Twist and Flip Gymnastics had to close down all of its programming back in November when the provincial government announced that all sports facilities would be closed as well as team sports.
"It's been a roller coaster ride," said Randy McMullen, owner of Twist and Flip Gymnastics.
"I understand they (the government) have to take different approaches during different stages of this pandemic. But (I'd) like a little bit more common-sense approach. At the beginning it was 50 people who were allowed capacity in our facility. Then it went down to based on fire code ratings— which I believe was 25 per cent— and then it went down to 15 people. Now it was one-on-one just recently and now I can go to people's houses, which I'm not going to be going to people's houses."
McMullen would like to reopen under the targeted relaunch app roach due to the low active cases in the South Zone.
The South Zone currently sits at 383 active cases as of Jan. 16. Cypress County—which includes Redcliff— has three active active cases and is an average of 26.7 cases per a 100,000 population.
"I understand there (are) certain regions that are still dealing with things," he said.
"But Cypress County (and) Medicine Hat (are) doing quite well. Based on that and our region doing quite well, I would like to see businesses—not just mine—but all businesses to be able to open with restrictions of course, safely."
McMullen has asked the Alberta Gymnastics Federation to get an update from Alberta Health Services to see how the business can get through the storm.
McMullen would like to see local municipalities collaborate and ask AHS and government about the targeted approach.
"And say 'You know what, you said you were going to do a targeted relaunch,' as we had near the beginning when we had different regions that were enhanced, based on their COVID cases or how many they had per population. I'm hoping that's why I want them to get back to that, especially because we're doing so well. I think that would be common sense to me because there (are) many businesses that might not make it through this. I'm struggling, but I'll be fine."
He says his business is essential in a way.
"The malls are open, are they essential?," said McMullen.
"And nothing against the malls, I understand those are business owners too. But a lot of the mall-the retail-could probably pivot and do online. I can't pivot and do online, I can't do drive-in gymnastics (or) curbside gymnastics. I think it's an essential service for the children of our community to get out for their mental health because they're cooped up. I've talked to parents, and the online learning is even stressful—even for the parents and the kids. So to give them an avenue to get out, even if it's just one-on-one to socialize with their coach and get some exercise—so their mental and physical well beings —I think are essential to me. And to keep them physically fit, to help them try to keep them healthy to help them through the COVID, if they do get COVID."
The gymnastics club felt as though they were prepared for these recent restrictions because there was a reduction from a 13 to a 12-week recreation program that began back in early September.
"We started really early in September because we knew if we could open early in September, then let's get as much done as we can in September, October," he said.
"Then there was Thanksgiving and Halloween that we knew was coming up. We knew that would probably increase the numbers. By the end of November, we were pretty much done our fall session, we had for certain classes— like Saturdays and Mondays—I think Mondays was the one that was most affected—I think we had two more classes"
McMullen informed his gymnasts last week that the start-up has been pushed back to Feb. 1.
Twist and Flip Gymnastics has been in operation for six years and offers programs for preschoolers all the way up to competitive gymnastics. Included also are competitive men's and women's gymnastics and there are discussions to start adult classes.
Gyms and all other recreation facilities will be closed until at least Jan. 21.